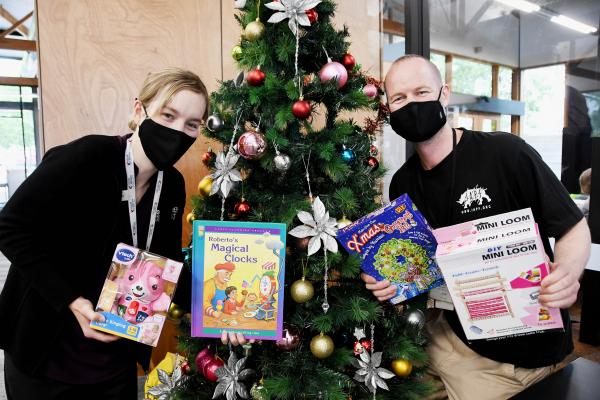 By Parker McKenzie
A Belgrave based charity is running its annual Christmas Appeal and is seeking donations for those suffering from hardship over the festive season.
Dandenong Ranges Emergency Relief Service (DRERS) chief executive officer Tania Bevan said the best donations are non-perishable food items and toys for children.
"For example Christmas cakes, mince tarts, puddings, water crackers, savory and sweet biscuits and other festive treats," she said.
"The best gifts for the younger children are toys such as building blocks, and games. For older children sporting goods such as bats and balls, and for the teenagers, gift vouchers are the best."
Presents can be dropped off below the Christmas at the Belgrave Library, or the DRERS office at the Belgrave Community Hub.
Mrs Bevans said the amount of families assisted by the appeal varies each year.
"In recent years it's been around 60 to 70 families which equates to hundreds of local kids," she said.
"We also assist individuals both with and without kids by providing a Christmas food hamper, which as you could imagine would be greatly appreciated by someone living on welfare looking for work."
DRERS is a non-for-profit organisation supporting people experiencing financial stress, crisis and hardship in the Dandenong Ranges.
Mrs Bevans said the charity is aiming to put together 140 Christmas hampers to show those in need the community wants them enjoy the holidays too.
"When Emergency Relief Services provides toys and Christmas hampers during the festive season we know that we are providing extra care to those in our community who are struggling," she said.
"These toys and hampers bring cheer to families and people who are often facing challenging life experiences, and to provide some joy at this time goes a long way."
The charity was founded in 1998 and offers food, clothing and financial assistance to those in need.
Mrs Bevans said the community can contribute to DRERS through food donations and financial assistance beyond Christmas.
"We need donations of food all year round, not just at Christmas," she said.
"Help with food is the most requested assistance. Next is assistance with fuel and bills such as electricity or gas, rent and chemist prescriptions."
The office is located at the lower level of the Belgrave Community Hub for people looking for social interaction, lunch or a cup of coffee, or donations can be left at the Belgrave Library on Reynolds Lane, Belgrave.