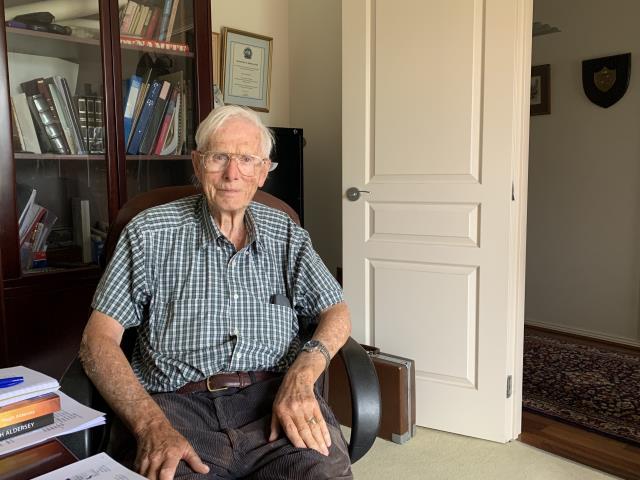 By Mikayla van Loon
Not wanting history of his family's involvement in two world wars to be lost without any records, Ferntree Gully's Hugh Aldersey wrote two historical novels based on facts to ensure these stories were documented in an interesting way.
Originally from Britain, Mr Aldersey had accumulated a lot of information during his upbringing in Cheshire and from his two years national service in the peace keeping force in Egypt after World War II.
As an engineer, he was offered a position in Australia to start up a new iron foundry in Clayton.
"I'd always wanted to come to Australia as my mother had spent her teen years here and then returned to Britain," he said.
Having finished working at 81 he spent some time travelling the globe before starting to write his first book.
But as terrorism was starting in Australia, this new threat made him do some research on the origins of terrorist activity.
He found there was the basis of a book in South Africa on the terrorism after the Boer War and this was used for his first book Irregular Safari.
Prior to writing this book the only relevant experience Mr Aldersey had had was editing the Mechanical Engineering magazine for 18 months early in his career.
Continuing the story of the family from his first book, Mr Aldersey used historical facts collected from a diary written by his father in the trenches during World War I and during his service in the Home Guard in WWII to create his second book Know Your Enemy.
He also used details provided by his uncle about his naval service in WWII and his own personal observations as an inquisitive schoolboy.
"As my uncle's mine sweeper cleared a path across the channel for the Dunkirk evacuation and the D Day landing in Normandy followed by the establishment of the Mulberry Harbour and Pluto, he had a birds eye view of these critical operations and much of the preparations beforehand," Mr Aldersey said.
But it was while he was on a short holiday himself in North Wales that he saw history in the making.
Mr Aldersey found an area that was closed off with a high corrugated iron fence with a lot of activity going on inside and 'danger, keep out' signs placed in the outside.
"Curiosity prevailed and I climbed a small tree and looked inside. There were a lot of men busy pouring concrete into large metal moulds but I did not know what they were making," he said.
Later he found they were making modules of the Mulberry Harbour that were used for the Normandy landing and follow up supplies.
Mr Aldersey said the balance of winning WWII or being overrun by the enemy was on a knife edge most of the time, so use of every deception or technical advantage, like having radar in secret or deceiving the enemy that the D Day landing would be in the Dover to Calais area was absolutely vital.
Now at 90, Mr Aldersey likes to research topical subjects of significant national importance and make notes of his findings, like the causes and remedy for climate change or the current Covid-19 pandemic.
"People must wake up and realise that coronavirus is a very real global threat and requires everyone's complete cooperation to prevent ongoing disaster. The future is in our own hands."
Some of Mr Aldersey's articles will be featured in the Star Mail newspapers over the coming months in the opinion section.