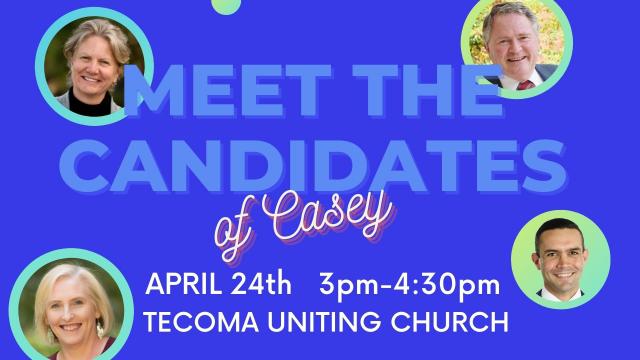 By Parker McKenzie
The Casey community will have the opportunity to take their questions directly to their potential federal representatives, with a meet the candidates event at Tecoma United Church.
Hosted by Minister Matt Cutler and moderated by Stephen Barrington from Foothills Community Care, the event will take place on April 24 at 3pm and features four of the six candidates.
Minister Cutler said there will be a spread of questions to try to eliminate agendas.
"This time Tony Smith has moved on and created an opening, so there's going to be a new voice representing us," he said.
"This is a bit of a chance not to grill our politicians, but to ask questions that help us get to know them, learn who they are, to learn what they stand for."
Liberal Aaron Violi, Labor's Bill Brindle, Jenny Game from the Greens and independent Claire Ferres Miles will be present answering questions from the community.
Minister Cutler said it's important for the candidate to be accessible to the community they represent.
"Rather than them working for the party, I want to believe in a world where our politicians, our MPs work for us, and we have to shrink the gap between us and our representative voice if we really want to engage the populace," he said.
"This kind of forum creates that feeling. If you've met a politician, you're more likely to write a letter, make a call, have a voice and genuinely believe that you are an active member of our democracy."
The format of the event is "still being ironed out," however, the aim is to create a forum driven by questions from the community towards their potential representative.
Mr Barrington said he was invited to moderate because of his involvement with different churches and community groups through his charity.
"We're involved in supporting people in our local community and have been doing it for many, many years around the Dandenong ranges and Knox area," he said.
"Particularly at a critical time for our country and our community, it's really important that we get a range of messages directly from the candidates themselves, so people can listen to them, can ask questions from them and hopefully cut through some of the normal political speak that goes on."
Mr Barrington said if the representative for Casey isn't in touch with their own electorate, they aren't doing their job and shouldn't be elected.
"People want to have confidence that the people who lead us actually understand what they're going through," he said.
"They need to have a foot in their local electorate and understand local issues."
Tecoma Uniting Church is located at 1566 Burwood Hwy, Tecoma.
Minister Cutler said the event was doing something you aren't supposed to: Mixing church and politics.
"Our sense of faith informs how we act in the world and that shows up largely in politics," he said.
"Historically, we've done a similar Meet the Candidates event. When this space opened up, it made sense to put our hand up to do it again."
The two remaining candidates — Anthony Bellve from the United Australia Party and One Nation's Paul Murphy — will not be present at the event.
Mr Bellve said he wasn't invited, but he will reach out to the organisers and ask to be in attendance.
"By not inviting myself and Paul Murphy, they are denying the people of Casey the opportunity to see that there is another choice. That choice puts people before power and politics," he said.
"I think what it shows is that when it comes to Labor, the Greens, the Liberals, and I'm going to call them the preference gathering independent, they're all in this together."
Mr Murphy was contacted for comment.