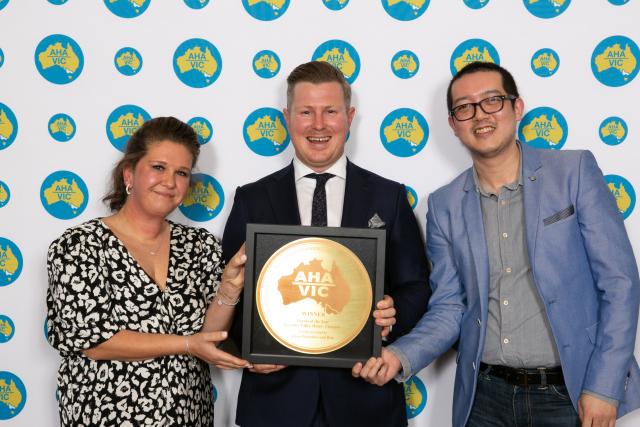 By Tyler Wright
Tt this year's hotel industry night of nights, a local Clematis hotel has taken out the award for their parmigiana.
At the Australian Hotel Association (AHA) Victoria State Awards for Excellence held at the Crown Palladium on Monday 16 May, Paradise Valley Hotel were awarded 'Parma of the Year,' after nominating the categories they wished to be judged in; including Excellence in Service and Best Metropolitan Pub Restaurant.
Co-owner Mark Protheroe said the judging is similar to a "mystery shopper" experience where all hotel operations are taken into account.
"We use fresh chicken breast; we crumb it ourselves…it is then cooked off as schnitzels and then we finish them with our tomato sauce [which is] cooked overnight in the ovens to richen it and take away some of that sharper acidity you find in tomato sauce recipes," Mark said.
"We use a cheese blend of a couple of different cheeses to top it before baking it until it's golden brown.
[It's] consistently one of our most popular items, certainly since winning the award it's even grown in stature."
Paradise Valley Hotel's Khayla Markham was awarded for Excellence in Service on the night.
"I think the key is we treat everyone equally, so when people come in through the door, whether they're regulars or not, they get treated with respect and dignity," Mark said.
"It comes back down to community once again; our community including our staff are engaged, active and supportive of what we're trying to achieve," he said.
1250 patrons filled the Palladium at the 2022 State Awards, celebrating not only winners and finalists but the spirit of the industry over the past three years.
"The AHA (Vic) State Awards for Excellence celebrates the achievements of Victoria's pubs and hotels as we acknowledge excellence in hospitality service and delivery," AHA (Vic) CEO Paddy O'Sullivan said.
"We also pay tribute to the contributions of staff working in pubs and hotels to ensure the success of our industry."
Clematis' Paradise Valley Hotel was also a finalist in the Best Metropolitan Pub Restaurant category.