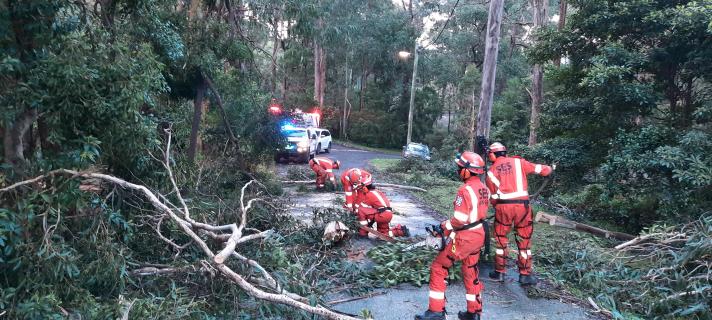 By Tyler Wright
on Tuesday 2 August, VICSES Emerald crew members were out overnight until 7pm where they attended 85 calls for help from residents as damaging winds swept across the eastern ranges.
The continuing northwesterly winds, averaging 65 to 75 km/h with predicted peak gusts of up to 110km/h, came after a strong cold front made its way over eastern Victoria on Tuesday.
"The majority were tree-down traffic hazard or tree-down on driveway or powerlines," Emerald SES Unit Controller Ben Owen said.
"We had about ten or 15 damaged buildings; thankfully, nothing severely damaged."
Six members of the Chelsea and Craigieburn SES units also came out to assist the 20 Emerald unit volunteers working over the 24-hour period.
On Wednesday morning, Mr Owen said the Emerald SES unit was not expecting a large volume of calls moving into the afternoon, but other crews' expertise was needed with the building damage calls that were outstanding.
"It was manageable; this type of thing we sort of get used to in small-scale severe weather events, nothing like June or October last year," he said.
So 80 to 100 calls spread over a period of time we can manage generally; it all depends on the type of job.
The main problem areas for Emerald SES trickled from Emerald through to the Belgrave, Selby and Upwey areas.
"We ring all the calls back and some of them were certainly nervous and affected in different ways; not having power, not being able to get out of your driveway… those type of things obviously has effects on people differently."
VICSES had responded to 273 calls for assistance throughout the state as of 9.30am Wednesday 3 August, according to Mr Owen.
Winds eased below the warning threshold in the afternoon of Wednesday 3 August, after contracting Alpine peaks.