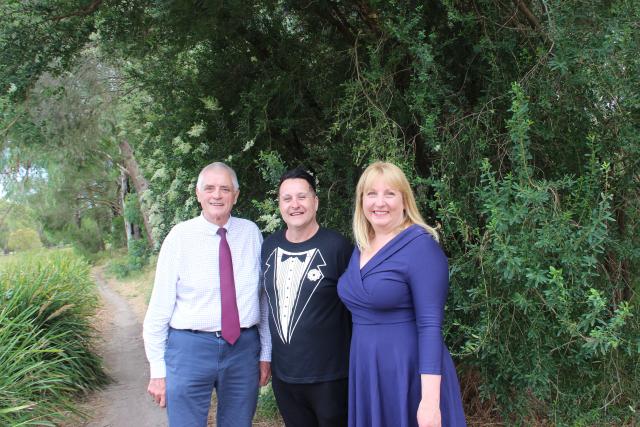 By Tyler Wright
At Yarra Ranges Council's Australia Day award ceremony on Thursday 26 January, community groups in the Hills have been recognised for their work in the Dandenong Ranges.
The Philanthropic Collective and Friends of Glenfern Valley Bushlands were both announced as joint recipients of the Community Group of the Year Award.
"We were surprised…we don't nominate ourselves, but we do understand that recognising our volunteers is important," Philanthropic Collective events director Andrew Fillip-Gautier said.
"That's why we accepted the award – and we were thrilled, of course."
With the ethos of 'doing everything with good will,' the group has supplied enough food for 240,000 meals to more than 2000 families over six years, including women in family violence situations.
"We will often see people when they're broken at their lowest point," Mr Fillip-Gautier said.
"Sometimes women in those situations, 'how do I feed my family? How do I feed my kids?' – that's the first port of call.
"To take that stress away, knowing that each week your food will be taken care of, is a huge relief for people."
The Philanthropic Collective also holds the annual Halloween on the Green event, which brings thousands of visitors to the Dandenong Ranges each year.
"We managed to pull 60 tonne from landfill each year, and whatever is spoilage goes to the community garden in Belgrave," Mr Fillip-Gaultier said.
The Philanthropic Collective's Free Food Program partners include local eateries like Proserpina and Mountain Wholefoods, as well as Woolworths and Aldi stores in the region.
"The wonderful thing is when you've had people rely on the food boxes for a year or so and then come to you and say 'we're back on our feet, we don't need it anymore, give it on to another family'," committee member Rosalind Mackay added.
"It's very rewarding when you see that a food box per week over a whole year has really helped them survive."
For 21 years, Friends of Glenfern Valley Bushlands has cared for the reserve in Upwey; removing car bodies and countless piles of rubbish, installing fencing and removing invasive plants.
Since 2001, the group has worked with Yarra Ranges Council, Melbourne Water and other experts to rehabilitate the site which once was dairy farming and a quarry and four-wheel-drivers and dirt bike riders, into a picturesque area with an amphitheatre, picnic area and frog ponds.
Now with some 80 plus financial members, and continuing to retain the reserve's natural environment, members have accepted the title of Community Group of the Year in 2023.
"It's wonderful to receive some recognition from the council who've been a big stakeholder and participant alongside of us throughout that 21 years," president Jackson Ellis said.
Mr Ellis said the main activity of the group is keeping invasive species at bay.
"Every working bee involves some of that, and then undertaking some infrastructure upgrades to the entrances of the reserve to make it more accessible and to help people find their way around the reserve," he said.
"Improving the ecological value of the reserve and providing an amenity for the public to enjoy the space and for participation so that other people can then learn a bit about the local environment and contribute in their own ways."
Friends of Glenfern Valley Bushlands also contributes to research activities by conducting local water surveys for fauna and has worked with Deakin University on surveying the local Powerful Owl population.
Yarra Ranges Mayor, Jim Child, said this year's recipients share a passion for improving the world around them.
"It's been a rough few years for our community – in some ways, we're bouncing back and, in others, we've got a while to go," Cr Child said.
"But through adversity, through loss and the uphill battle of pushing for better, we have so many people locally who are willing to put their hand up, to set aside their time and dedicate their skills to improve the world around them.
He said the council's awards this year celebrate a variety of people of all ages who put in effort to make the Yarra Ranges the best it can be.
"Congratulations to this year's award winners and our certificate recipients. Each one of these people is someone who we're proud to have in our corner of the world, people that inspire others to do better, try harder and live with more empathy and kindness."