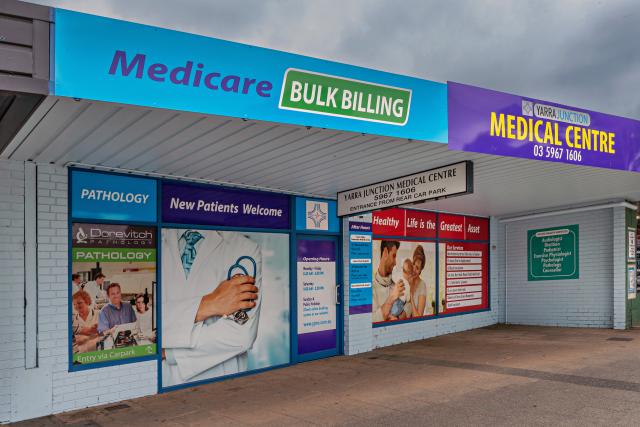 By Callum Ludwig
The reduction in medical centres offering bulk billing is making it harder for residents to avoid a hit to their wallets when booking a visit to the doctor, during a time when we are all tightening the purse strings.
Healthcare comparison directory Cleanbill released its Health of the Nation report on 16 April, collecting pricing and availability information from all 6363 GP clinics across the country.
The Casey electorate had one of the lowest percentages of bulk billing clinics in Victoria, and not far from the lowest in the country, with only four of 34 available clinics offering bulk billing, only 11.8 per cent.
Yarra Junction Medical Centre is one of those four and Practice Manager Alison Dajlan said there needs to be bulk-billing in the local area as otherwise some people simply can't afford to go to the doctor.
"There's a lot of support that is needed by general practitioners, in general, to be able to afford to run a practice while still bulk-billing., the bulk-billing rates need to be increased to make it more viable for practices to provide the service," she said.
"Each practice would have had to evaluate whether they could continue, with the costs of rent, wages, medical supplies and equipment all having gone up in the last 12 to 24 months. A lot of clinics haven't been able to sustain it."
In Victoria, the average appointment leaves residents $40.10 out of pocket. The Casey electorate is down on this average, at $35.28 for a standard consultation.
Ms Dajlan said residents need to be able to receive medical care in their local area.
"Patients need to be able to access these services nearby and if they can't access service locally, they may have to travel. For some, they may not be able to if they are limited due to work or commitments or don't have means of transport," she said.
"Yarra Junction Medical Centre will keep bulk billing for as long as we possibly can."
The bulk-billing statistics for some of Casey's neighbouring electorates are varied with over half (51.4 per cent) of Latrobe clinics, a reasonable 36 per cent in Aston and a worrying 14.3 per cent of clinics in Deakin offering bulk-billing.
Royal Australian College of General Practitioners (RACGP) President Dr Nicole Higgins said the results showed the cost of years of neglect of general practice.
"Medicare has not kept up with the cost of running a practice, and we are now well past the point where the general practice profession just can subsidise care. In February, new Department of Health data showed bulk-billing had fallen to its lowest point in a decade," she said.
"GPs want to serve their communities fairly and ensure all their patients can access the care they need. When people can see their GP when they need to, rather than when they can afford to, they are less likely to experience expensive hospital emergency presentations and be healthier and happier at every stage of their lives. We need a system that supports this."