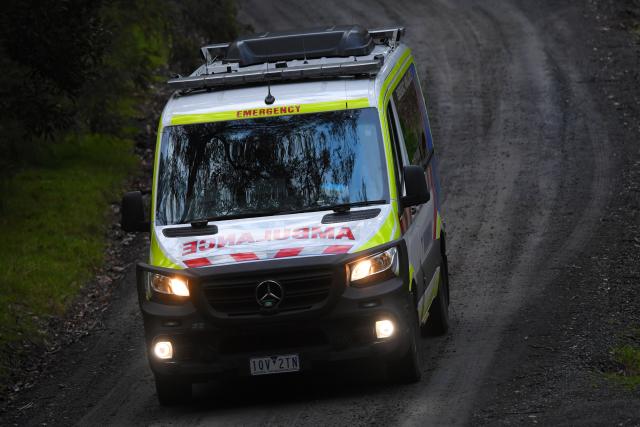 By Callum Ludwig
Ambulance Victoria (AV) responded to 96,594 Code 1 cases between July and September this year, 2002 more than the same period last year, showing just how crucial is to have ambulance services available.
Always call Triple Zero (000) in an emergency, but there are alternatives for urgent care that keep paramedics ready to respond and may even provide the required medical care to patients sooner.
A Department of Health spokesperson as Victoria's health system continues to face historically high levels of demand, it is vital to save Triple Zero and ambulance resources for those most in need.
"We've established a range of alternative options for Victorians to get care without needing to call Triple Zero or visit an emergency department, such as Priority Primary Care Centres and the Victorian Virtual Emergency Department," they said.
"The latest quarter was the fourth busiest on record for Ambulance Victoria, and we continue to grow the state's paramedic workforce and hire more Triple Zero operators."
Victorian paramedics responded to 66 per cent of Code 1 cases between July and September within the state-wide target of 15 minutes, a big improvement from 61.7 per cent in the previous three months and 64.3 per cent the same time last year.
In the last quarter, 53.7 per cent of Code 1 cases in the Yarra Ranges were responded to in the target time with an average response time of 17 minutes and 11 seconds, 73 per cent in Maroondah with a 13 minute and 55 second response time, 72.8 per cent in Knox with a 134 minute and 54 second response time and 50.8 per cent in Cardinia with a 17 minute and 20 second response time.
A local paramedic, speaking on the condition of anonymity, said non-emergency call outs are an overwhelming majority of their workload.
"These calls take around an hour to assess, refer and complete our paperwork before we get back out on the road," they said.
"Recently, I have attended to call-outs of a sore nose, a splinter in a thumb and a request to prescribe medication, which we cannot provide."
The 2022/23 financial year was the busiest for Ambulance Victoria on record, with more than 400,000 lights and sirens responses, almost 1100 across the state every day.
The local paramedic said firstly it is a good idea to consider your local GP as a first point of contact for less urgent matters.
"Your GP can provide ongoing community care and management and please consider transport to hospital by private means by a family member or friend if you are experiencing a non-life threatening emergency that requires hospital care," they said.
"A hospital will treat an acute problem with likely subsequent referral to your GP or specialist."
The opening of Priority Primary Care Centres (PPCCs) and funding to expand the Victorian Virtual Emergency Department (VVED) in 2022 are helping to spread the load, with 27 PPCCs now operating across the state and the VVED offering 24/7 free telehealth consultations.
AV's Secondary Triage Service, which celebrated its 20th anniversary this year, also continues to respond to nearly 500 Triple Zero (000) callers each day to keep emergency departments cleared where possible, including 36,566 people between July and September this year.
Patients with urgent issues that don't require an emergency response, such as mild infections and burns or suspected fractures and broken bones, are perfect for PPCCs. The closest PPCCs to the Yarra Ranges are:
The Maroondah PPCC at the Mountain High Shopping Centre, Shop 28, 7-13 High Street, Bayswater, open from 8am to 11pm Monday through to Sunday, with bookings available via phone: (03) 9344 6888 or by searching for it on the HotDoc website
The Narre Warren PPCC at 60 Victor Crescent, Narre Warren, open from 8am to 11pm Monday to Friday and 8am to 10pm on weekends with bookings available at (03) 9771 2020 or by searching for it on the HotDoc website.
Secretary of the Victorian Ambulance Union (VAU) Danny Hill said any time an ambulance crew responds to a case, even if it's a low acuity health matter, they have to do a full assessment.
"They have to document everything that's occurred, they have to try to organize follow-up care for the person and during that time, they're not available to respond to a real emergency if it comes in," he said.
"I think sometimes people think 'I'll call Triple Zero just to see what's going on' and while that may be well-meaning, if people are not looking at better options first, they can really tie up ambulance resourcing and leave them unavailable to respond."
The VVED, which started as a trial conducted by Northern Health in October 2020, requires no referral and any person can connect directly from a device with a camera to an Australian credentialed clinician. Through the VVED, patients can receive self-care advice, prescriptions, or referrals for tests, scans or other services at facilities close to their home or be asked to attend their nearest emergency department if required.
Common and suitable ailments for contacting the VVED include Covid-19 and mild respiratory illness, headache or other pain, non-time-critical injuries, nausea and vomiting, urinary infection, palpitations, dizziness, mild allergies and insect bites. More examples and other frequently asked questions can be found at vved.org.au/faqs/.
Mr Hill said you'll likely get the medical care you need far quicker through alternative services.
"As soon as the ambulance gets you to the hospital, you're probably going to be put into the waiting room and you could be there for many hours because the emergency department is there dealing with road trauma, with heart attacks, with strokes and has to prioritise those patients, " he said.
"Our members certainly have reported that they use them, such as paramedics who have young kids that dong their heads at school or need a couple of stitches because of afterschool sport, and they've all reported back that they get a really good turnaround and response from PPCCs."