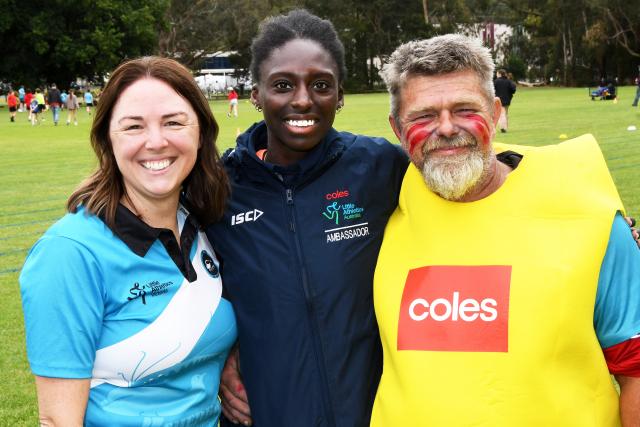 By Tanya Faulkner
Sherbrooke Athletics Club recently played host to one of Australia's finest track and field stars.
On Saturday 18 November, Little Athletics Australia Ambassador Nana Owusu-Afriyie spent the morning at the club with some of the Hills' upcoming athletics fans, enjoying a day of running, throwing and jumping with local youths.
Ms Owusu-Afriyie is an Australian track and field athlete in the 100m, 200m, and 4x100m sprints.
She has participated in various international events including Oceania Championships, Commonwealth Youth Games, 2x World Junior Championships, 2019 World Athletics Relay Championships, World University Games and the World Athletics Championships.
The day was a great success, in which Ms Owusu-Afriyie said everyone got involved, from young to older.
"From the parents to the family helpers and athletes, I felt so welcomed, and I had a lot of fun being out there.
"Sherbrooke Little Athletics Club is a beautiful community built on family volunteers and support.
"It was great to see so many parents helping out to officiate, so the kids could compete," she said.
Ms Owusu-Afriyie said the day kicked off with a group warm-up with all of the children in attendance, then broke into smaller age groups for a day of running, jumping, and throwing.
"I'm very thankful that the kids let me join in on the running, jumping, and throwing!
"At the end of the day, I was fortunate enough to hand out a Coles voucher to the best-dressed athletes at Sherbrooke Athletics Club.
"It was great to see lots of red, and the kids were so active," she said.
Ms Owusu-Afriyie began her Little Athletes journey at Waverley Little Athletics, Central Reserve when she was 11 years old, and since then, she has continued her running career without pause.
Ms Owusu-Afriyie said it was her PE teacher in school who encouraged her to find a club after her participation in a regional carnival.
"My brother and I joined up, and I have not stopped since!
"Little Athletics provided a fantastic opportunity for me to compete with kids my age and stay active.
"I also forged numerous friendships, many of which I still cherish to this day," she said.
In 2013, Nana also had the opportunity to compete at the Australian Little Athletics Championships in Tasmania, representing Victoria.
There, she secured the second position in the 100m, and clinched the first position in both the 200m and the 4x100m.
Her involvement in track and field has instilled resilience in her, helping her navigate through challenges such as injuries, academic pressures, and the balancing act between work and training.
Embracing both triumphs and setbacks has reinforced her passion for the sport, serving as a constant reminder of why perseverance is key.
Overall, Ms Owusu-Afriyie said for other young kids wanting to get into athletics, to just go for it and never forget to have fun.
"I always say that Little Athletics offers an event for everyone, whether you want to compete, jump, run, or throw. It provides a safe space to stay active.
"I believe track and field also helps you develop and learn both gross and fine motor skills that can be applied to other sports.
"Athletics serves as the foundation for many sports.
"But, ultimately, being a part of sports, you should never forget to have fun.
"Embrace the learning process, support your teammates, and remember that the most important aspect is enjoying the journey of being active and involved in sports," she said.
The Coles Community Round is held from Thursday 9 November to Saturday 18 November with both Coles and Little Athletics Australia Ambassadors making appearances at local athletics centres.