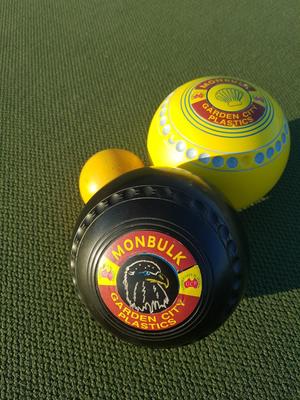 On Saturday 16 February, Monbulk Bowling Club's number one team played Ferntree Gully at home. Most Monbulk rinks started well and established a good lead.
Eric Markham's rink was 18 shots to nil after seven ends and went on to record a convincing win by 19 shots, 29 to 10.
Brian Smith's rink was in fine form all day and after 14 ends led by 26 shots, 28 to two.
They kept the pressure on and won by the biggest margin of the day – 26 shots, 34 to eight.
Andrew Bell's rink had a battle on its hands all day and at the completion of the 18th end scores were locked together at 17 shots each.
However, Monbulk steadied and ran out winners by four shots, 22 to 18.
Richard Cookson's rink trailed for most of the day and was not able to make up the deficit, losing by six shots, 12 to 18.
Monbulk won the overall by 43 shots, 97 to 54, and is firmly entrenched in third place.
Monbulk 2 travelled to Cranbourne in what was a show down for second place on the ladder.
Peter Francis's rink adapted to the conditions well and after 16 ends had a six-shot buffer.
However, they lost the next five ends to go down by three shots, 14 to 17.
Graeme Gollers' rink had a similar story and with two ends to go led by five shots.
However, they lost the last two ends and dropped a four on the last end to tie, with 22 shots each.
Case Broekhof's rink led by one shot after the eighth end but then dropped six shots on the next and was not able to recover, losing by seven shots, 16 to 23.
Eric Furby's rink struggled to win ends early, but a four on the eighth put them within one shot of their opponents.
However, Cranbourne continued to win the ends and eventually ran out winners by 12 shots, 12 to 24. This meant that Monbulk lost the overall by 22 shots, 64 to 86, and has now slipped to third position on the ladder.
Monbulk 3 played top of the table Box Hill RSL at home.
Alan Brookes' rink started well and maintained its lead throughout the day, winning by 18 shots, 29 to 11.
Peter Hiscox's rink had a close tussle but was able to maintain its composure, winning by five shots, 21 to 16.
This gave Monbulk a win over the top side by 23 shots, 50 to 27, and meant that they still held onto second place on the ladder.
On Tuesday, Monbulk 1 played Croydon at home. Monbulk established an early lead but the heavens opened and the game was a washout which meant both teams shared the points.
Monbulk 2 travelled to Boronia and put up an excellent performance by winning on all rinks by 14 shots, 56 to 42.
Graeme Gollers' rink won by one shot, 18 to 17.
Eric Furby's rink won by five shots, 19 to 14, and Peter Francis' rink won by eight shots, 19 to 11.
Monbulk 3 struggled in the early ends against Lilydale, but then the heavy rain meant no further play and both teams had to share the points.
Night Owls bowls is in full swing on Thursday nights.
The bowls start at 7.30pm, with casual dress and flat soled shoes recommended.
Bowls can be provided and single players or teams can be accommodated.
Call the club on 9756 6183 to play, sign up in the foyer at Monbulk Bowls Club or just arrive at 7.15pm ready for action.