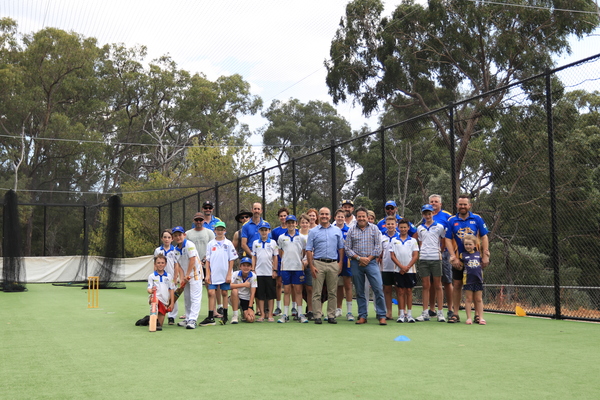 South Belgrave Cricket Club players are bowling like never before thanks to the four new 40 metre long, cricket nets recently installed.
South Belgrave Cricket Club president Trevor Miller said the new nets were much safer to train with and also provided one public lane for community use.
"The old nets were very run down and the run up was on the roadway causing a safety issue for players," Mr Miller said.
"The club is very happy with the result and the players have provided a lot of positive feedback about their ability to use the new nets for training.
The state government's Cricket Facilities Fund provided $50,000 to the project through the 2018/19 Cricket Facilities Fund, council provided $27,000 through the Capital Works program and the club provided $45,000 via their building fund.
State Member for Monbulk James Merlino said he would like to congratulate the club president and club committee for their advocacy efforts in obtaining the funding.
"This new facility will increase safety for players as well as allowing greater accessibility for members of the club and our community," Mr Merlino said.
"I'd like to thank the club committees from previous years, for having the foresight to develop a building fund."
Mr Miller thanked the local Ward Councillor Mike Clarke and Mr Merlino for guiding the club through the advocacy process.
Cr Clarke said the club had done an excellent job in managing the project and advocating for funding.
Cr Clarke said it was wonderful to see the resurfacing of the netball courts at Belgrave South Recreation Reserve nearly complete.
"The netball club will soon enjoy playing on the high quality surfaced courts with two practice courts overlaid and two competition courts," Cr Clarke said.
"Multiple clubs including Selby, Belgrave and Belgrave South play here and will have the ability to train at night."
New lighting installed recently was funded by $40,000 from council, while the state government's Sport and Recreation Victoria provided $30,000 via the Country Football Netball Program.
The netball court upgrade will be completed by the start of the netball season.