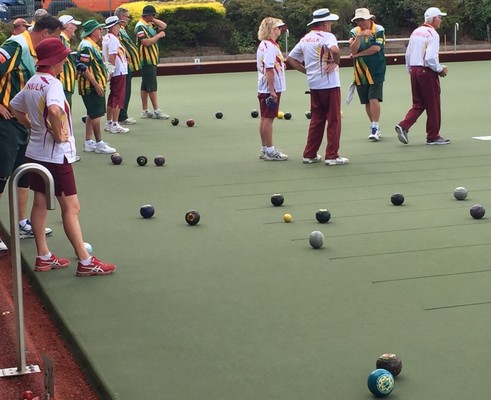 Monbulk 1, who have been recently promoted to Division 1, made the trip to Caulfield Park on Tuesday.
A brief shower temporarily halted the start but once the match started, Monbulk jumped out to an early lead.
After 12 ends the side led by eight shots and by the 33rd end this had jumped out to 17 shots.
Caulfield Park reduced this lead to only six shots by the 60th end but Monbulk held on to win by the same margin of six shots, 60 to 54.
Richard Cookson's rink won a five on the first end and then with some excellent bowling from the skip were able to record a comfortable victory by 14 shots, 25 to 11.
Andrew Bell's rink led all day and was 10 shots ahead with eight ends to go.
However, they did not score again and lost on the final end by two shots to go down 18 to 20.
Eric Markham's rink started well but after dropping a five on the fifth end were not able to regain the lead to go down by 6 shots, 17 to 23.
Monbulk 2 played away from home against Ferntree Gully in what was a very close contest.
Di Bigelow's rink was quickly into action and by the sixth end led by eight shots.
Ferntree Gully then lifted its performance and by the eleventh end scores were level.
Monbulk then raised the standard and won the next five ends to eventually win by six shots, 22 to 16.
Eric Furby's rink led by 6 shots after the ninth end.
They then lost eight of the next nine ends to be seven shots down with only three ends to play.
They then stormed home to win the last three ends by eight shots to grab victory by one shot, 20 to 19.
Graeme Goller's rink was involved in a nail biter. They were six shots down after the eleventh end but won the next five ends to hit the front by one shot.
Graeme's rink lost four of the next five ends, but a great four on the nineteenth end put them in front but the last two ends were won by their opponents which meant the game ended in a tie, 17 shots each.
Monbulk won the overall by 7 shots, 59 to 52.
Monbulk 3 played Chirnside Park at home in a rain-interrupted affair.
Anne Ward's rink trailed by seven shots after the eleventh end but then won seven of the next 10 ends to run out winners by five shots, 23 to 18.
Ray Pikes rink dominated the opposition winning 15 of 21 ends to run out comfortable winners by 18 shots, 26 to 18.
This meant that Monbulk 3 had an overall win by 24 shots, 74 to 50.
After a win in Round 1 of Saturday pennant against Mitcham, Monbulk 1 travelled to Lilydale.
Monbulk started well across all rinks and after 32 ends led by 18 shots. Lilydale then lifted their intensity and turned it into a close contest.
Andrew Bell's rink kept control for most of the afternoon only dropping 6 ends to win by 13 shots, 24 to 11.
Eric Markham's rink led by 10 shots after the eighth end but this is where it ended with Lilydale winning eleven of the next thirteen ends to overwhelm the Monbulk rink by 11 shots, 27 to 16.
Brian Smith's rink were level after nine ends but then Lilydale grabbed the ascendancy winning 7 of the next 10 ends to run out winners by 13 shots, 26 to 13.
Richard Cookson's rink were the stars of the day controlling the contest after scores were level after the ninth end.
They then won 9 of the next 12 ends including a 6 on the 19th end to win by 20 shots, 34 to 14.
This meant Monulk won the overall by 9 shots, 34 to 14.
Monbulk 2 played Mitcham at home and won the overall by 14 shots, 92 to 78 to record their second win in two starts.
Monbulk 3 played Warburton at home and were able to take the points by 16 shots due to the excellent bowling from Alan Brookes rink which included Bev Chancellor and Darren Ward.
Monbulk has a Try Bowls Day on 27 October between 11am and 3pm. All are welcome to participate with free coaching and all bowls supplied.
Night Owl bowls will start on 7 November at 7.30pm.