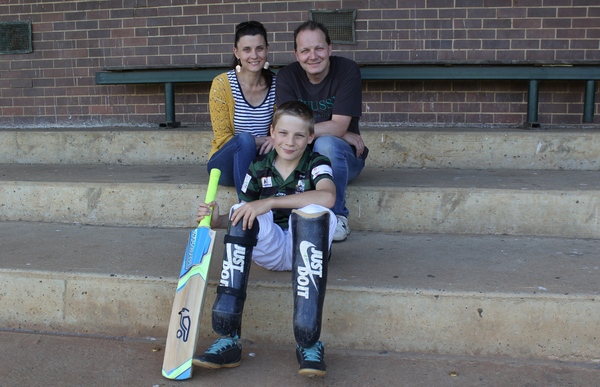 Known simply as 'Em' to his friends and family, Emmanuel Megee was born with the incredibly rare Klippel-Trenaunay Syndrome, or KTS.
One of four children of mum Cathie and dad Scott, Em was born with the condition that severely affects his vascular system from his waist down.
His veins, arteries, and even lymphatic system are profoundly impacted, to the point that his feet and lower legs were deformed from birth.
"When he was about two his lower legs and feet were just getting bigger and bigger," Cathie explained.
"Part of this syndrome caused a kind of over-growth in his feet and bones in his legs, so by the time he was two he could walk around but he was beginning to drag his feet.
"We were advised at that point that probably the best course of action was to amputate, so they made the decision to amputate his right foot. That foot alone was nearly the size of his head.
"His left foot then had the same surgery a year later.
"Functionally, we knew that it'd become more and more difficult for him, and he actually wouldn't be able to walk now if we'd made the decision to leave them.
"And with the way the amputations were done, it means he can actually walk on his stumps – he can even run around on them now, no problem at all.
"He had his surgeries without any issues whatsoever, got his prosthetics, and away he went. It was extraordinarily straight-forward."
Em quite literally wears his circumstances like a badge of honour on each of his prosthetics. Each of his well-worn, well-loved new limbs has the Nike logo and slogan "Just Do it" proudly displayed.
And that perfectly defines his attitude to life.
Em followed his older brother, Ash, into cricket.
While the game didn't quite capture Ash's imagination, Em fell completely in love with it.
It was spawned from playing backyard cricket, and now Em's love of the game is a 24/7 obsession.
He's a co-captain of the under-12 side at Gembrook – one of the West Gippsland Cricket Association's smallest clubs.
But it's at the Brookers that Em has found a sporting home – a place to belong.
"For us it's really lovely because Em is a sportsman at heart and we'd always wondered what he'd end up doing and what'd work for him," Cathie explained.
"When we started to play cricket and realised that he could actually manage it, we realised it was a really good fit for him too.
"While there is running involved, it's for shorter periods; and it's not a contact sport so he won't be physically hurt or hurt someone else. That's the other reality of playing something like soccer – where his blades might collect someone in the shins."
While Em continues in his endeavours to master the art of spin bowling, it's his batting that's moved ahead in leaps and bounds.
"To start with, I found cricket quite boring to watch, but when my brother Ash started playing I watched it a bit more and by the time I was playing in the under-10s, I just loved it," he explained, proudly.
"My highest score with the bat was 22 and I ended up making more than 120 runs for the season, which was the highest for the team."
Em relishes his role as co-captain – being able to work alongside and encourage his team mates.
And the role also has an added benefit.
"I think it really helps having two captains, so it's not just one person always making the decisions!" he said with a cheeky laugh.
Em has a habit of wearing out his prosthetics in no time at all, simply because of how active and energetic he is.
"His prosthetist just laughs every time we come in to see him, just because he plays so hard on his legs," Cathie explained.
"But that's what they want, because it means they're out there and playing hard."
Em has had a number of surgeries on his legs over the years, and the Megee family only knows one other boy in Australia who presents with the same condition as his.
"Every nine to 12 months Em has to get new legs because he grows out of each pair so quickly," Scott said.
"He won't let anything get in his way and he'll give everything a go, and give 110 per cent in the process. Even if he struggles with it to begin with, he'll persist and find his own way through it. He's just got a fiercely determined attitude towards life, and whatever he puts his mind to he just finds a way of accomplishing in the end."
Cathie explained that Em's condition also leaves him susceptible to serious infection from as little as a simple graze or cut, due to the impact on his lymphatic system.
"When he gets an infection he can go from being seemingly well to having a systemic shutdown within about a two-hour window," Cathie said.
"The minute he gets sick we just take him to hospital and they put him straight on IV antibiotics. It happened a lot when he was younger, but it's become easier to manage since."
As a family, the Megees meet every challenge head-on. Em proudly lives in the moment, and gets the most out of each and every day.
The family went to Queensland last year to the Ossur mobility clinic with a group of lower limb amputees.
It was there, on the three-day, intensive camp that Em found his tribe.
"It's these experiences that go to show that everyone has their own story," Cathie explained, with Scott adding: "There's great perspective in appreciating the country we live in. Em's current prosthetics are $20,000, and to have a system like the NDIS where that's covered is amazing. We live in a very special country in that way."
Em has had seemingly countless surgical interventions along the way, yet he and his family are always thinking about how lucky they are.
"He's managed at the Royal Children's Hospital through the limb deficiency clinic, and his care has been astonishing the whole way through," Cathie said.
"There's great perspective in that, and we're just so grateful to live in a country where that's all available."
Scott said his son gives life everything he's got, because he knows the opportunity he's been given to make the most of it.
"His first pair of blades was supposed to last two years, but after nine months they completely delaminated!" he said with a laugh.
"Em doesn't ever complain. Not every day is easy, but he gets up every morning, puts his legs on, and just gets on with life."
Through the sport of cricket, and the tiny Gembrook Cricket Club, Em has found a place to belong.
"It's a real gift for us that he's found his niche – something he's just so passionate about," Cathie said.
"It's just such a joy to see him out there doing what he loves and encouraging others along the way. We just feel really grateful that this cricket club is here and he's been able to fit in as well as he has. We're just thrilled that he's found cricket, and now he just lives and breathes it every day."