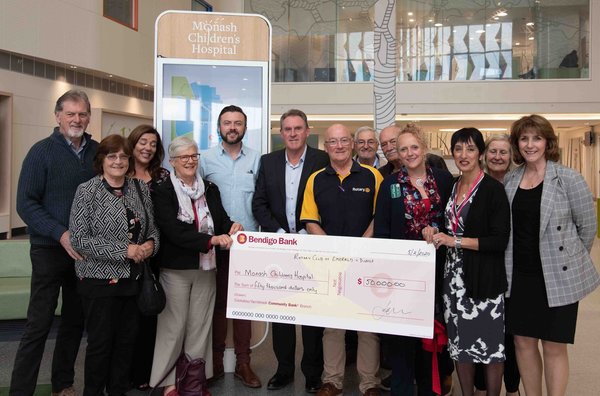 A cheque of $50,000 has been donated to the Monash Children's Hospital by members of the Rotary Club of Emerald and District.
The impressive figure was raised from The Kids Run with Thomas event which was held at Gembrook in November last year and saw over 500 children take part.
As part of the final funds raised, almost $20,000 came through child fundraisers alone, with the top five participants raising $6500 together.
"These kids are doing so much good and they're having so much fun while doing it," Rotary chair John Henderson said.
"All came together to help and support children at the cancer centre and show their love in a positive way – kids helping kids."
Mr Henderson said the club were "thrilled" to have raised so much for the hospital's cancer centre.
"It was an absolute pleasure to work with the team at Monash and to support the amazing work they are doing to make a difference in helping children with cancer," Mr Henderson said.
"It was heart-warming to see so many children getting behind raising funds for those less fortunate than them and I am sure the event has assisted not only in raising funds but increasing knowledge in the community of the services Monash provide."
The cheque was presented to Monash Health Foundation director Ron Fairchild and the Gazette understands the donation will be used to support the appointment of a Research Fellow.
"We feel this is a gift that will keep giving as a Research Fellow is not only an additional member of the medical team but will make a lifetime contribution to helping children with cancer not only at Monash, but through collaborations across Australia and around the world," Mr Henderson added.
"Our sincere thanks go to all who supported the event – the children who took part and their family and friends, the many volunteers who helped on the day and our major sponsors Puffing Billy Railway, Ferntree Gully Motors, Emerald Co-op, the Wholesome Food Company and That's Right bookkeeping."
The event has now raised over $670,000 for children's causes since its inception in 2002.