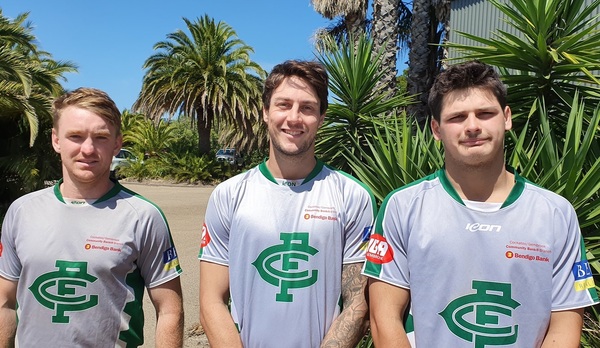 The Brookers are counting down the days until the start of a whole new era for them in the AFL Outer East competition.
Not only are they about to embark on their first Division 1 season under the three-tier format, but it won't be long before they finally have football and netball at the same venue, under the same umbrella, with state-of-the-art facilities to their name.
While many other clubs would, undoubtedly, take for granted having their netballers and footballers together as one on game day, Gembrook Cockatoo hasn't had that luxury for some time now.
They haven't even been able to train or have their weekly selection nights together.
But the mighty Brookers have stayed strong to their values as part of a community club with a long and proud history, and soon they'll have the upgraded facility they deserve.
In the meantime, they can't wait to crack right in for 2020 – with the senior football group once again bolstered under the watchful eye of coach Brad Coller.
Favourite son and one of North Melbourne's all-time favourites, Michael 'Spud' Firrito, is once again set to don the Brooker guernsey this season – despite his ongoing role back at Arden Street.
Firrito's former North Melbourne team mate, ruckman Hamish McIntosh, has had to take a step back from playing due to persistent injuries, and former Collingwood player Tarkyn Lockyer has also departed Brooker land, but the Brookers' senior group – under Coller, and assistant coaches and fellow Gembrook favourite sons Nathan 'Sauce' Brown and Simon Ponter – has been boosted by the inclusion of some recruits that will bolster particular areas of need.
Former Belgrave player Aaron Johns, former Cora Lynn player Brayden Weller, the returning Brayden Wood, and Jake Delphine are among the new signings at the Brookers, while former Eastern Rangers star Damien Volta – a beloved figure at Gembrook – will captain this year's senior side, which recently returned from a gruelling pre-season camp at Safety Beach.
"The main thing we're hoping for is that progression from our younger brigade," Coller said.
"They stood up to it last year, and we're hoping for that next step in their development again.
"We've still got that strong core of youngsters that we'll continue to try and keep topping up."
Coller, Volta, Firrito, and the rest of the Gembrook leaders know what's ahead of them in what looms as a fascinating Division 1 competition – featuring neighbouring rival Emerald, as well as Monbulk, Officer, Belgrave, Seville, Healesville, Mount Evelyn, and senior newcomer Berwick Springs.
Every week will bring a new challenge in what promises to be an incredibly cut-throat season.
Coller and his players – while excited for the challenges that await them – know they can't take anything for granted. Still, they're looking forward to renewing old rivalries, and the birth of new ones – against clubs such as Officer, coached by Coller's former mentor at Cranbourne, Doug Koop.
"Our consistency last season was actually pretty good, but being able to close out games is the main thing we need to work on moving forward," Coller said.
"Last year we had Spud (Firrito), Tarks (Lockyer), and Hamish (McIntosh) and probably two or three other blokes over 28, and the rest were pretty much 21 or under. Those boys can't be standing up for all the young blokes 100 per cent of the time.
"We've changed our training up a little bit and done a bit more match simulation at training to get our boys more conditioned."
Coller said the Brookers will be hoping for more luck on the injury front in 2020, with both key position player Daniel Welsh and Volta missing a large part of 2019 through injury.
McIntosh also missed a significant amount of time, and both he and Lockyer weren't available for the first final.
Still, the Brookers have moved on – with their sights firmly set on the new season.
"We all know that to be successful it's not just about your talent and how hard you work – you've got to have some luck along the way too," Coller said.
"There were a lot of could've beens and what ifs when it came to last season, but this year we're going to be really competitive.
"We're not being unrealistic in saying finals is in our sights, because I think Division 1 will be very even and probably the top five in Division 2 weren't all that far off it last season.
"We're setting our sights fairly high, but we're still realistic about our expectations about a young group that really is still developing."
Coller's Gembrook Cockatoo will open its Division 1 season against Koop's Officer at Starling Road on 18 April.