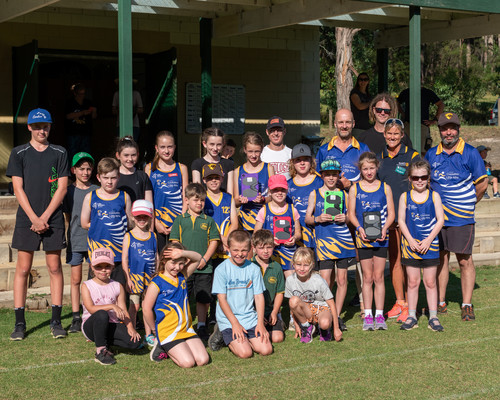 A gift of technology has made life that little bit easier for the young athletes of Cockatoo Little Athletics Club and their volunteers, thanks to a generous donation from the Rotary Club of Emerald.
The days of writing scores down on paper, having to manually input data and wait a week for updated personal bests are all things of the past after the Rotary Club of Emerald recently donated four Samsung mini tablets to the athletics club.
President of Cockatoo Little Athletics Club Russell Butler was extremely happy to receive the tablets, praising the Rotary Club of Emerald for their kindness.
"We needed some help because we were a bit short on volunteers," Mr Butler said.
"Previously someone would have to spend quite some time inputting all the data and it wouldn't get up for a week or more because of time constraints. Now with the tablets it's filled in on the day and all the kids have their own portals and can see if they've beaten their personal bests," he added.
"In Little Ath's we don't focus on coming first, second or third we focus on each child's personal best and the tablets mean the kids instantly know if they've got a personal best which makes them happy.
According to Mr Butler, the donation came about by someone mentioning how the club was struggling to keep track of scores with limited volunteers at a Rotary board meeting.
"Susi Wilson brought it before them and basically got it through for us, we can't thank her and the Rotary enough," he added.
Ms Wilson, who is the Chair of Community Service at the Rotary Club of Emerald, officially presented the tablets at the athletics track in Cockatoo recently.
"The Emerald Rotary Club is very happy to donate the tablets and see kids and families engaged in athletic activities," Ms Wilson said.
The club looks forward to continuing to use these new tablets to immediately upload results for kids, parents and Athletics Australia and praised the technology for "shortening a previously lengthy manual process".