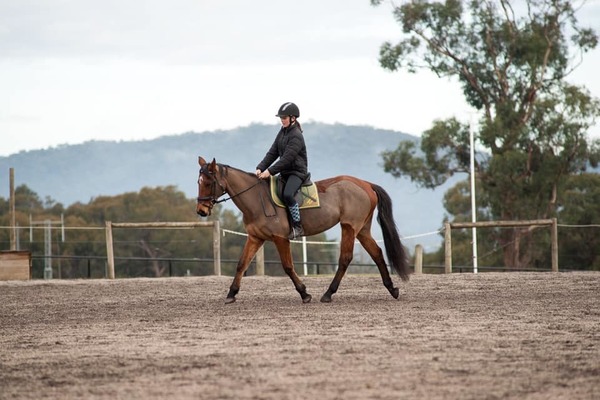 The Upper Yarra Pony Club will host its dressage jackpot through video next month so riders can still compete from the safety of their home.
Amid Covid-19 concerns, the competition couldn't be held at the pony club. But organisers decided it could still go ahead if competitors filmed themselves and sent it in to be judged.
District commissioner Anita Prowse said the club hoped to keep riders engaged and entertained despite having to be isolated.
"We're trying to keep them active, trying to keep them training towards something," she said.
"You get in a real lull when you're stuck in a situation, when there's nothing in the foreseeable future for you to be training your horse for.
"To keep their head in the game and actually have something to work towards and look forward to is really important."
Ms Prowse said the competition was originally only open for a pony club section but once word got out, there was a high demand for an adult section.
"I've had so many adult riders saying 'please open a section for us'," she said.
"Honestly, there's probably more adults going for it then kids."
The competition will host open sections 3, 4 and 5 as well as a pony club section.
Contestants will be required to film themselves doing dressage tests on a large flat grass area.
"For most of us locally that have a bit of land and a horse it is quite easy, they don't need a fancy arena," Ms Prowse said.
"The other thing is it takes out the travel so people from say Swan Hill who wouldn't have come down can do this easily."
Video footage must be clear, uninterrupted and filmed from where the judge would typically sit.
Pony club section competitors will also be required to wear uniforms.
Entry is available at https://eventsecretary.com.au/equestrian/#Entry:8558 and tests must be submitted by midday 26 April.
For more information, contact Ms Prowse on 0409 953 345.