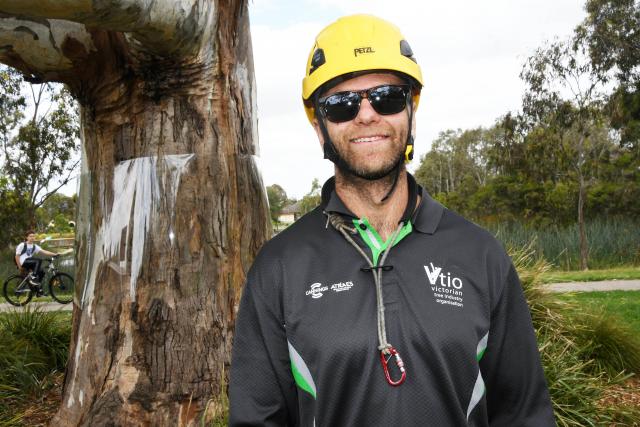 By Tyler Wright
An Upwey tree climber has his sights set on another international title after securing a win in the most recent state championships at Banjo Paterson Reserve in Lynbrook from 11 to 12 November.
Arborist Barton Allen-Hall said he is thinking of taking next year's state competition off to achieve his goal.
"It's still always a good feeling winning, particularly because we've got some really good competition in Victoria," Allen-Hall said.
"This year I won the world championship [in Albuquerque in the United States] and the guy who came second is from Monbulk.
"It's the first time that anyone in a chapter has gotten first and second at the international competition… it's pretty cool achievement that two guys from the Yarra Valley."
In a competitive career that has spanned 12 years, Allen-Hall won the 2022 International Tree Climbing Championship in Copenhagen – taking the role as the first Australian in history to be world champion in tree climbing.
Competitors in tree climbing competitions are tested in their ability to professionally and safely manoeuvre in a tree while performing work-related tree care tasks in a timely manner.
"I'm quite lucky, I've won the Australian title quite a few times and I've won the state competition quite a few times," he said.
"There's also the the Asia Pacific competition which is open to New Zealand, Australia and any Asian countries, which is sort of like a regional competition; that is in Malaysia next year and one I haven't won many times, so I would like to do well at that one."
Allen-Hall said he had left high school and was looking for a job when he knocked on an arborists' door and realised he could get paid to climb trees.
"It just went from there," he said.
"Tree climbing techniques are evolving pretty quickly….the main goal for me is the next international competition.
"I'd like to win the Australian competition… I've got nine or 10 months to prepare for that., and it's a good time to experiment with new things and you've got lots of time to hone any new ideas and techniques in before the next big competition… experimenting with different things at this time of year and running through the events and breaking the events down and working on different parts of them."
Allen-Hall said he became the fourth ever person to win the international competition twice in a row since it started in the 1970s.
"There's only been two other people that have won three in a row, so that's the goal at the moment is to try and win that third one in a row.
"There's a lot of good climbers out there, so it's definitely pretty tricky – I know how hard it was to win my first international, so to win three in a row is a huge achievement; there's a reason why only two people have done it before.
"I'd like to win the Asia Pacific [competition], but I would really like to win the international next year."
In the meantime, training for Allen-Hall will involve his usual haunts – with hot spots aplenty living in the Dandenong Ranges.
"In my Google Maps I've got pin locations saved all across Melbourne of where good trees to climb are," he said.
"Whilst there's plenty of big trees around, for the competitions you want a big spreading tree.
"I go and keep my eyes out looking for good trees to climb when I'm driving around and I know where a bunch of them are near where I live in Upwey."