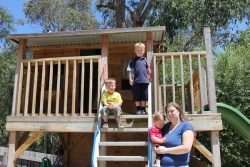 A free National Disability Insurance Scheme (NDIS) forum in Monbulk is being held on Friday 24 February, in partnership with Yarra Ranges Council and Yooralla.
The forum, to be held at the Monbulk Living and Learning Centre, is open to anyone in the community interested in learning more about the NDIS.
The event will focus on what the NDIS will mean for individuals and how people can begin to prepare and plan.
Yooralla's NDIS experts will lead the forum, which is designed to provide relevant and up-to-date information.
Lilydale mother-of-five, Shannyn Gereg, said attending the session would be helpful for her to determine what services four of her children could access.
Three of her children are deemed to be living with a disability and one is without a diagnosis.
Her son, Ranen, 3, is going through early intervention, and is currently attending a Yooralla support program.
"He is experiencing social anxiety, needs help with learning how to go to the toilet, social skills and speech," she said.
Jett, 5, needs help with his speech, motor-skill issues, balance, and will be receiving surgery this year to improve his hearing.
"Jett, who has no diagnosis to date, can potentially access services from November 2017 through the NDIS," she said.
"At the moment, we can access bulk billed services like occupational therapy, a psychologist, dietician and speech therapy.
"But we can only access five free services through our GP and this is a challenge when more than one child needs support."
The forum will provide an opportunity to:
* Understand how the NDIS works;
* Learn more about planning and preparation for transition to the NDIS;
* Ask questions about how the NDIS will impact you and your family;
* Meet local services providers
Meanwhile, Yooralla is also asking people to submit their questions on the NDIS before the forum.
Inquiries to Shelley Hosking on 9666 4584.