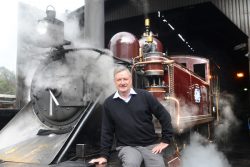 By Peter Douglas
A $78 million investment is required over the next decade to preserve Puffing Billy for future generations, according to Puffing Billy Railway's John Robinson.
With the Victorian Budget set to be handed down in May, the chief executive officer is calling on external and government funds to support their master plan, with its wish list including 12 new carriages, a new locomotive storage facility in Emerald, and a discovery centre at Lakeside Station.
Since 2012, visitation levels have exploded and have hit an all-time high.
Mr Robinson said the tourist hot-spot was expected to reach visitor capacity of 480,000 passengers next year, with present numbers increasing to 470,000, up from 267,000 in 2012.
Estimates indicate Puffing Billy could attract as many as 730,000 passengers by 2027.
Mr Robinson said this represented a huge economic opportunity, but a need to ensure infrastructure could keep up with demand.
"We are going to reach capacity in 2018," he said.
"To allow us to cater for this demand, we need to ensure we can run more trains, with additional carriages and create an enhanced visitor experience."
Mr Robinson said Puffing Billy Railway had planned for the future, through the vital projects included in their master plan.
"The projects … will help us to carry more passengers, in particular from Emerald Lake Park to Gembrook, which is currently an under-utilised section of the railway," Mr Robinson said.
"In order to grow the Lakeside-Gembrook section of the railway, we need to construct a discovery centre at Lakeside, provide new locomotive storage facilities at Emerald and build 12 new carriages to meet future demand."
Mr Robinson said unless strategic, long-term funding was made available for developments and upgrades, Puffing Billy would continue to reach capacity.