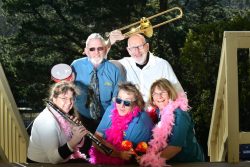 The Dandenong Ranges Music Council has received a welcome $10,000 grant under the Victorian Government's Anzac Centenary Grants program.
The funds will go towards a project by local schoolchildren to research the history and write a song about the 1919 Penny Drive.
Victorian soldiers used the drive to rebuild a school in Villers Bretonneux, France.
Through such initiatives, the funds aim to commemorate the sacrifice of local veterans and educate the wider community about their service.
Monbulk MP James Merlino said the grant built on work to preserve and educate Victorians about the service of Australia's veterans.
"Monbulk has a proud wartime history; it's important we give our veterans the support and tribute they deserve," he said.
"This funding will help the Dandenong Ranges Music Council (DRMC) educate future generations, and allow people to better connect with the moments that shaped our history."
For more information on veteran grant opportunities, visit www.dpc.vic.gov.au/veterans.