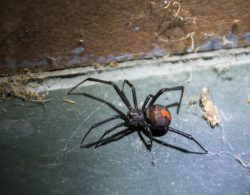 By Derek Schlennstedt
Mount Evelyn Environment Protection and Progress Association (MEEPA) has urged residents in the Yarra Ranges to check their households and outdoor areas for redback spiders after the Mount Evelyn area was treated for an infestation.
Climatic conditions, particularly at the start of March, as well as extremely humid to wet conditions in February, have led to an increased number of redback spiders across the region.
Last week, MEEPPA in conjunction with the chamber of commerce and several business owners/managers, requested urgent assistance from the Yarra Ranges Council to treat the infestation.
On Tuesday 11 April, various shops along the Main Street of Mount Evelyn were treated and the spiders removed.
MEEPA member and zoological illustrator of arachnology, Francis Mayson-Smith, said that the infestation was not limited to Mount Evelyn and was occurring throughout the region.
"It's not just confined to Mount Evelyn, it's everywhere," he said."Conditions have been very similar to central south Queensland, especially at the start of the March, those conditions have suited these guys as they love the warmth and humidity," he said.
Mr Mayson-Smith says that due to the humid conditions Victoria had been experiencing, insects and bugs had also increased in population, resulting in a larger food source for spiders.
"The greater the food source the more we're going to have … some of the redbacks we've found are much bigger than usual and most females have more eggs than normal," he said.
A Facebook post by MEEPPA received widespread response, and feedback received on the post suggested an extensive spider infestation across the Yarra Ranges.
It is reported that residents from Warburton, Montrose, Healesville, Lilydale and Monbulk were finding that there were hordes of spiders around their township.
Having studied spiders for 34 years, Mr Mayson-Smith warns that redback spiders in particular are social arachnids and where you find one, there is often another.
"They are gregarious by nature, where you find one, you will find three or four; you generally find them in a colony," he said.
The aptly-named redback spider, named for the red hourglass on its back, is well-known to occupy areas around the house and yard including toys left outside, pool equipment, flowerpots and mailboxes.
As winter approaches, these spiders and others will try to find warmer places to inhabit.
As the weather cools, they will general retreat to damp places below dry overhangs such as windowsills, electrical boxes, in bathrooms, underneath the sink and underneath a playground slide – as one resident found.
Mr Mayson-Smith advised people to check around children's sandpits, toys and bicycles, inside helmets or any other equipment that gets left outside.
If bitten, apply an ice pack or a cold compress to lessen the pain; if the patient is a child aged under 6 or a senior over 65, ring for an ambulance immediately.