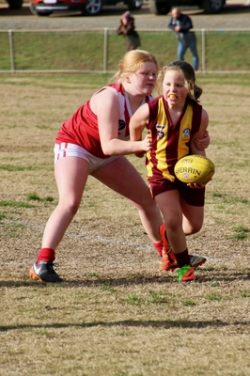 MONBULK JUNIOR FOOTBALL
Freezing conditions greeted the first teams of the Monbulk Junior Football Club, but the icy conditions didn't deter an eager bunch of Under 9s. It turned into a glorious winter's day for remaining teams with spectators needing sunglasses and hats.
UNDER 9
Playing against an older team and minus-two degree conditions gave the team a slow start. The kids started warming up and played great passages by getting in front, running with the ball and kicking it long. Well done.
Awards: H. Brooks, S. McIntosh, E. White, A. Sproat, B. Hennig.
UNDER 10 MAROON
The guys ran and linked up well today, we worked on hitting more targets and hunting the footy. The team is improving weekly and are not far away from a four-quarter consistent effort.
Awards: N. Seamer, F. Clunie, I. Mullinder, J. Monro, D. English.
UNDER 10 GOLD
A bit of a tough day. Tested by a physical team which put them off their game; the positive is that they have heaps of improvement left. Keep working hard, it will happen.
Awards: A. Hylton-Stewart, H. Piesley, R. Kay, C. Henderson, C. Seamer.
UNDER 11 – bye.
UNDER 12 GIRLS
All-round great team effort for the whole four quarters. The focus this week was pressure around the footy, playing in front, leading and timing. Basic kicking, marking and handballing have improved immensely, which is really evident in the way they are playing.
Awards: M. Laven, N. Seamer, J. McDermott, J. Woodgate, M. Hooper.
UNDER 12
A bit sluggish to start saw the behind earlier a much improved rest of the game was pleasing to see. Looking forward to a week's rest.
Awards: J. Bateson, T. McBride, N. Rutherford, J. Higgins, S. Niclasen.
UNDER 14 GOLD
Attack on the ball was ferocious with staying focused the key, discipline to stay on task was exceptional had some fantastic contributors from players doing their role. Enjoy the holidays.
Awards: J. Spencer, M. Cameron, B. Sander, J. Downey, R. Finlay, J. Pengilly-Downard.
UNDER 14 MAROON
Attitude and effort today was excellent; the attack on the ball and wanting to move forward the best all year. Keep the confidence within the group for the rest of the year, boys. Go Hawks.
Awards: J. Niclasen, T. Linde, B. Martin, C. McLean, B. Lee-Wren, L. Bright.
UNDER 16
Really strong, consistent effort from all the team today. Followed coaches' instructions, which brought their team-mates into the game and opened up the play. Good transfer of play and using first options, which brought most of the team into the play.
Awards: T. Trezise, H. Finlay, B. Te Boekhorst, A. Richardson, D. Ross, M. Hill.