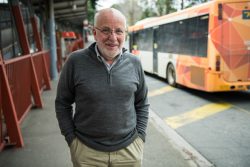 Footpath links and bus frequency may be contributing to Yarra Ranges residents not making the most of existing public transport services.
These factors, along with the need for improved bus services linking the shire's urban areas with the Yarra Valley and Dandenong Ranges townships, have been earmarked as crucial for the municipality to thrive socially and economically.
Yarra Ranges Council and The Eastern Transport Coalition are pushing for better public transport services and with Victorian State elections 18 months away.
Footpaths are an issue with the RACV identifying Yarra Ranges as having the highest number of low-use bus stops with no footpaths (325 in 2016) out of 14 outer metropolitan municipalities.
Yarra Ranges also has one of the largest number of high-use bus stops with no footpath (19 in 2016). An investment of $2.8m would be required to complete the missing links.
Yarra Ranges Deputy Mayor Len Cox said investment was needed to meet the shortfall when it came to bus services, particularly access, frequency and hours of operation.
"Bus services should have regularly frequencies that are easy for our community to understand and easy to access in terms of infrastructure," he said.
Chandler Ward's Cr Tony Stevenson said the Yarra Ranges needed more buses to connect with Lilydale Railway Station and buses to connect people with key employment areas such as Kilsyth.
The council is supporting specific bus service improvements as part of The Eastern Transport Coalition's (ETC) Commuters Count campaign:
* Provision of additional evening services on weekdays and additional services on Sunday for Route 685 (Healesville – Chirnside Park);
* Realign routes 671 and 672 away from Billanook Way and Yarra Ridge Drive along Black Springs Road, Chirnside Park, due to restrictions associated with existing road widths that will prevent access by new larger standard buses;
* Provide bus services to the Kilsyth Industrial area;
* Realign route 676 to remove sections along Summit Road and Alexandra Road at Lilydale;
* Provision of early morning services and additional evening services on weekdays and extension of services on Sunday to East Warburton for Route 683 (Warburton – Chirnside Park);
* Provide direct/ express services from Healesville, Yarra Glen and Warburton to Lilydale;
* Upgrade of all bus route services to meet Minimum Service Levels in terms of frequency and hours of operation. This can include aligning services to have a regular frequency (every 30 minutes) to make it easier for public to understand;
* New route between Seville/ Wandin via Mt Evelyn via Clegg Road to service local residents and the Evelyn Ridge Retirement Village.
The council is lobbying the State Government on infrastructure gaps, identifying the following areas:
* A lack of service coverage to and from connecting urban with outer non-urban areas;
* Insufficient frequency of services, particularly in the outer, non-urban areas and during off-peak periods;
* Lack of weekend and evening services;
* Poor bus to bus and bus to rail connectivity;
* Lack of cross-municipality bus routes;
* Lack of pedestrian access to bus stops.
Making bus stops compliant with the Disability and Discrimination Act (DDA) is also a problem with more than half of the 800-plus bus stops for public bus routes in Yarra Ranges well below acceptable standards.