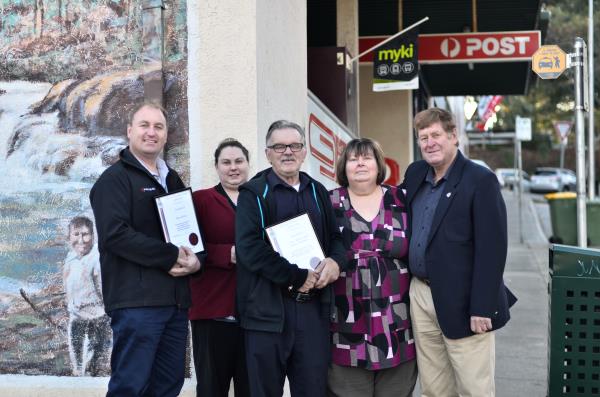 A new Mount Evelyn award is honouring a business community stalwart.
Kathie Freeman died earlier this year.
She ran the Mount Evelyn post office with husband Gary and daughter Natalie for many years, and served as president of the Mount Evelyn Chamber of Commerce.
The Mount Evelyn Chamber of Commerce unveiled the new Kathie Freeman award at its business awards at the Eastern Golf Club in Yering on Friday 23 November.
Chamber assistant secretary Jodie Kimpton said Kathie's family accepted the inaugural award, and the chamber would accept nominations for future winners.
"It will be an award that is sent out every year to an individual who's just shown some sort of community spirit and involvement within the local community, and has some sort of outstanding achievement within that," she said.
"She was someone who did a lot of work for chamber and a lot of it was never recognised.
"She was someone who, because she ran the post office she got to know a lot of the people in the area.
"She would touch base with a lot of people – business owners and residents."
Ms Kimpton said Kathie's family were rapt with the honour and found it a nice tribute.
"It was a sudden and quite short passing for her," she said.
"I think they were pretty happy about having that sort of thing, and knowing that her name will stay around."
Mount Evelyn Pharmacy won the Retail and Service Excellence Award.
The Community Group of the Year Award went to Melba Support Services, and the Environmental Award to Billy Goat Hill Brasserie.
The People's Choice Award went to Children's House of Early Learning and The Professionals in Mount Evelyn won the Mount Evelyn Community Bank Business of the Year Award.
"It's just a little bit of recognition for the hard work that business owners do," Ms Kimpton said.
"It's a good way to promote the business area of Mount Evelyn.
"There are a lot of businesses out there that are your small businesses. It's nice to get out and network with other people."
Businesses self-nominate for the awards.
"We struggled with this year, because a lot of people don't want to put themselves out there and tell the world about themselves," Ms Kimpton said.
"But there's things we just wouldn't know about businesses. If you don't tell us you've introduced a new way of getting rid of silage on your plantation, we have no way of knowing.
"You've got to tell us."
The People's Choice Award was the exception, with shoppers submitting votes for the nod.