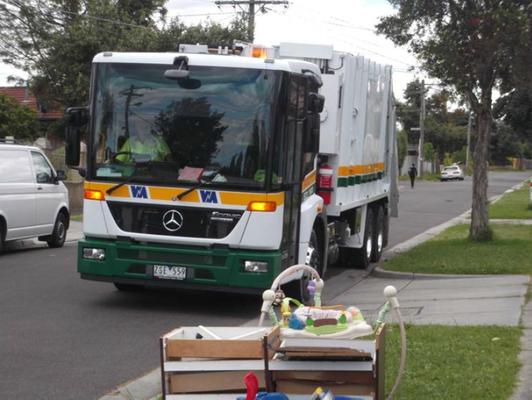 Yarra Ranges Council is encouraging residents to check their hard waste collection date and are reminding people to only to put their waste out the weekend before their pickup time.
Annual hard waste, bundled branches and metals collections will be taking place across the Yarra Ranges from mid-January to March 2019, giving residents a chance to dispose of appliances, furniture and excess branches from their properties.
Yarra Ranges Mayor, Tony Stevenson, encouraged residents to check what they can put out for collection and make the most of their collection.
"The annual hard waste collection is a great chance to clean up and clear out our properties and gardens," Cr Stevenson said.
"It's an essential part of the year for many residents, but it's also a very ugly time to be a visitor coming through the area.
"We're mindful of the fact that the warmer months make up a large portion of our busiest tourist season, but it's also the best time for our contractor to get their trucks to some of the more remote areas of the Yarra Ranges.
"It's worth taking the time to check Council's website, see what you can put out and when, and make sure you only put out your hard waste on the Sunday (weekend) before your collection week begins.
"Ideally, we can all use the service without piles of rubbish sitting on nature strips too long."
Hard waste, bundled branches and metals should be placed neatly in the same area that your kerbside bins are collected and must be able to be easily lifted by 1 or 2 people.
Household items, such as mattresses and furniture items, up to ten pieces of timber (excluding fencing), window glass, mirrors and shower screens (securely wrapped and marked glass), TVs, computers and electronic equipment can be placed out in up to three cubic metres.
Residents can also dispose of unlimited metals, whitegoods and equipment, though fridge doors need to be removed when placed out for collection (to ensure child safety).
Acids, fuels, cleaners and other chemicals cannot be put out for hard waste collection, but can be disposed of through the Detox your home mobile collections organised by Sustainability Victoria.
Check your hard waste collection date at yarraranges.vic.gov.au/myneighbourhood