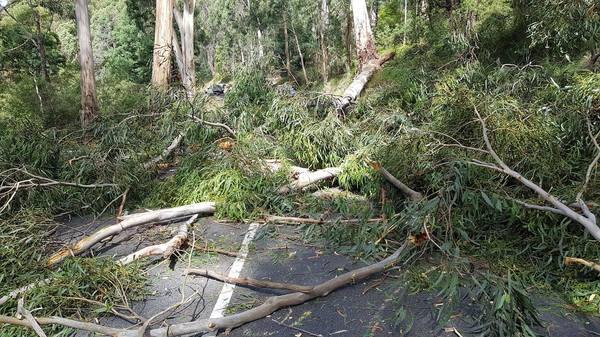 Thump! Out of nowhere on a quiet and hot afternoon, a gum tree drops a large branch across Belgrave-Gembrook road in Menzies Creek, halting traffic.
Fortunately, no one was driving under the branch when it came down, but the incident is still unnerving, and makes anyone living in a rural area question the stability of the trees that line many of the roads in the Dandenong Ranges.
Ian Robins from cockatoo shares that concern and in a letter to the editor said that more needs to be done to reduce dangerous trees.
Mr Robins said he has seen a number of trees fall onto roads over the past few weeks, specifically along Wellington Road, and Belgrave-Gembrook road.
"A few years ago, I witnessed a young driver have her car severely damaged when a tree with a rotten base fell across part of the road immediately in front of her.
"Fortunately, the damage was limited to the vehicle.
"In recent weeks two trees fell– one onto the road and another to the shoulder of the road."
"A visual check of trees abutting Wellington Rd shows that about 200 are growing at angles … in ways which mean they can only fall onto Wellington Rd if they come down."
Mr Robins raised the problem to VicRoads, but it was only after a clearly hollow tree fell opposite Clematis pub that he was given a prompt response.
He said that initially VicRoads responded to his concerns by stating that 'there was no immediate hazard.'
"This tree was hollow and a visual inspection should have shown it to be in poor health and a risk."
"People living in the area will be familiar with the unpredictable nature of many tree species and the need for constant monitoring of their condition …. they need to be monitored and checked to make sure they are safe."
"That being said since I raised it VicRoads have been more proactive."
"I value the trees along road reserves and don't want to see trees removed without strong reasons, equally, I don't want to see serious accidents caused by trees which have a limited future."
VicRoads Director of Metro Assets Fatima Mohamed said VicRoads regularly responds to dangerous trees.
"While we cannot monitor every individual tree on the roadside, our Environmental Roadside team routinely monitors roadsides for hazards and defects in accordance with the Road Management Act."
"If anyone has concerns about a tree on a roadside they think could be hazardous, we encourage them to call 13 11 70. That way our team can inspect the area and undertake an arborist report if necessary."