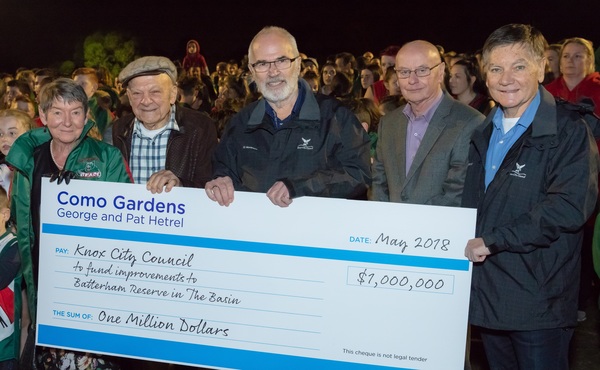 Ferntree Gully Singer Andrea Cobbern was jointly awarded Citizen of the Year along with Johann Poppenbeck from Knox, as part of this year's Knox Australia Day awards.
Involved in the music industry for over 30 years, Andrea is an incredibly gifted singer, vocal, music and performance coach and business woman.
Her business, located in Ferntree Gully focuses on developing and encouraging local talent and works with young children through to adults from across the local area and surrounding districts/
A keen member of the Knox City Council Arts Advisory Committee Andrea has been a key visionary and organiser for performances at local Relay for Life Cancer Council fundraiser, Stringybark Festival, Knox Festival, amplified workshops and the Knox Factor Competition at Knox Carols which has provided significant opportunities to showcase Knox's local talent.
Knox Council described her contribution to local music and the arts as 'not only enjoyed by the local community now but also leaving a legacy for a long time in the future of Australian arts.'
Other award Winners included Johan Poppenbeck who shared Citizen of the year with Andrea Cobber.
Johann received the award for his volunteering activities with the Knox Churches Soccer Club, where his Presidency of the Knox Churches Soccer Club significantly contributed to the club's recognition as a leading community sports group in Knox.
Joel Porter received the Young Citizen of the Year award for his efforts to establish the 'Stop Bullying Now Foundation' and raise awareness for internet stalking.
Lyn Shepherd was awarded Volunteer of the Year for her dedication to volunteer work and developing community sports and Shameela Essop was awarded local hero for her commitment to fostering intercultural relations in the municipality of Knox and beyond.
Among her notable achievements, Shameela was instrumental in coordinating the Islamic Society of Metropolitan Eastern Region (ISOMER) Mosque Open Days.
Elder Citizen of the Year went to husband and wife duo George and Pat Hetrel who were nominated by Chandler Ward Councillor John Mortimore in recognition of their involvement and support of their local community, charities and cultural organisations.
For the past 20 years George and Pat have held two annual open garden weekends in their historic Como Gardens and recently they donated $1,000,000 for the much needed upgrades at Batterham Reserve.