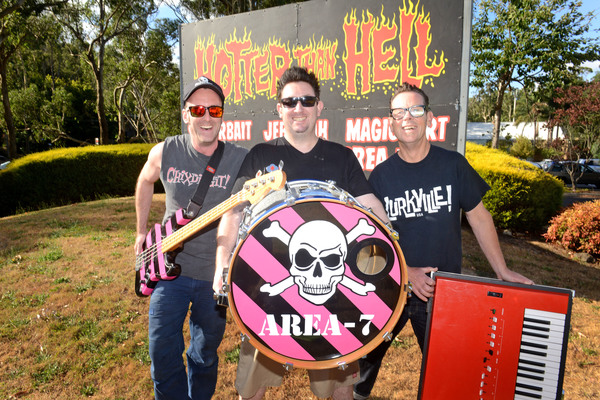 Hotter than hell is returning to the York on Lilydale and this year features the infamous ska band Area-7.
Next to The Living End (at least initially), Area-7 were Australia's biggest and best contribution to Ska's third wave – a bounding ensemble of musos that first came together in the eastern suburbs as a Madness cover band, called 'Mad Not Madness,' in 1993.
When they took a brave step towards original material a year later, they became known as Area-7 and it's stayed that way ever since.
Keyboard player Dave Jackson (DJ) who lives in Mount Evelyn said he was looking forward to bringing the bands Ska roots back to Mount Evelyn.
He said the band worked hard at livening up the shows, with band members regularly leaving the stage to join the sweat-soaked audience for dancing and sing-alongs.
"Being a victoria band and my hometown I'm looking forward to playing down here," DJ said.
"We're all really active leap around throw the keyboard around.
"Really get the crowd going; it's quite a colourful show with eight band members jumping around quite often down in the mosh pit.
"It's not uncommon to find our singer down in the audience or see the whole band jumping around on stage … it's a really infectious atmosphere."
With strong support from Triple J and performances on Rove Live, Hey Hey it's Saturday and regular spots on ABC's Recovery, their album bitter & twister released in 2000 debuted at number six in the ARIA charts, produced 4 singles and went Gold.
Guitarist Chuck Thompson, who was married in Mount Evelyn will be returning from a short hiatus from the band, adding to the excitement of the show said DJ.
"Our guitarist was the one who got married in Mt Evelyn he's a founding member , but he's coming back to play this show, so there's a bit of buzz because he's been away for a little bit."
"Never played a gig so close to home, it's really just three minutes down the road.
"I'm just really exciting to be at the local pub in my suburb."
Hotter Than Hell 2019 is also bringing together Spiderbait, Shihad, Jebediah, Killing Heidi, Bodyjar, 28 Days and more, in this hellish line-up of legends.
Area-7 will be playing at 2:15 with doors set to open at 2.