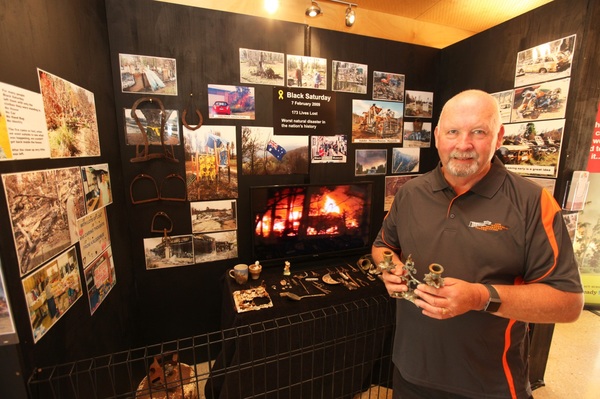 The Ash Wednesday Bushfire Education Centre (AWBEC) is commemorating the 10th Anniversary of the Black Saturday bushfires which wreaked havoc in February 2009.
Ten years ago on the 7 February 2009, a series of bushfires burned across the state devastating many small towns and communities.
173 lives were lost and to commemorate the event AWBEC has been working with Barry Thomas from the 'Black Saturday Museum' to bring a small but poignant display that shows some of the devastation that was felt across the state on that terrible day.
The display contains photos, artefacts and videos from the day, as well as the photos of the recovery that followed.
"Barry Thomas from the museum in Marysville has assisted us in putting together a display for the Black Saturday commemorations."
"It's a small but poignant display that recognises and commemorate the fact that the black Saturday fires were 10 years ago," Graham Simpson said.
The centre is dedicated to Ash Wednesday and remembering the devastating bushfires that swept through Cockatoo and Upper Beaconsfield, though Mr Simpson said the centre would open especially on Thursday from 3 to 9pm to recognise the immense impact that Black Saturday had.
"I don't think there was anyone who wasn't affected by the Black Saturday fires."
"We should remember these disasters do happen in Australia, because they are a part of our history."
AWBEC will be open on the Thursday 7 February from 3pm until 8pm for anyone that may wish to have a look.
The full Ash Wednesday display will also be on show and AWBEC is also open on Saturdays and Sundays from 11am until 3pm. Entry is $2 per head or $5 per family.