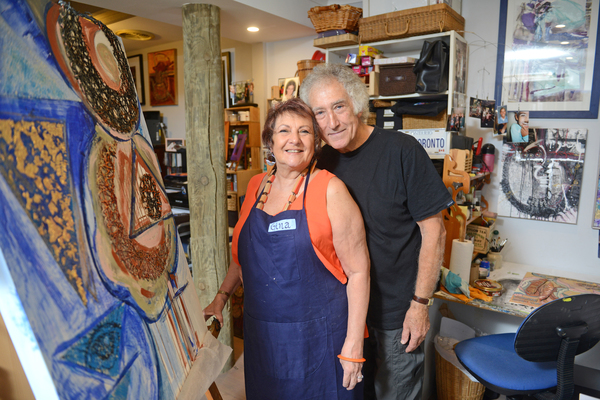 Ross Miller's intricate sculptures are observations of places, cultures and events transformed into monumental forms made of bronze, stone, wood and ciment fondu.
They're not just objects, but hold a narrative and are motivated by a lifetime of travel and observation which he imbues into his work.
"All my sculptures are inspired by places I've been too."
"I've always been interested in ancient and contemporary civilisations, the buildings and the costumes of people.
"My work is all about people, contemporary people you meet and they influence you, ancient cultures and the belief systems those ancient cultures have."
Mr Miller and his wife Gina– also an artist – will be newbies at one of the Dandenong Ranges premier art events, Open Studios.
Visitors to the 15th Dandenong Ranges Open Studios event in March will be able to see their handiwork for the first time, as well as visit the unique studios they work from.
Although they live together their art is distinctly different and both have their own unique art space and studio.
Gina's work is expressive, spontaneous and experimental, and though she may start with a realistic picture in her mind she usually moves to the abstract.
Unlike Ross her painting and printmaking images are expressive and spontaneous and her marks are often accidental, rich in texture, movement, rhythm and colour.
She told the Mail her art reflects her inner psyche and comes to her like dreams.
"I like to work and I like painting and print making … mine is a very two dimensional art and I like a lot of texture and colour, the overlapping of materials, mixed media," she said.
"It can be acrylic paint, collage papers, a lot of different things coming together."
With over 36 studios available this year, visitors to the Open Studios can spend a weekend in the hills meeting the creative folk that make this region so creatively vibrant.
Meeting the artists and seeing inside their studios is often an extremely personal insight into the life of an artist and it was that aspect that Ross said makes the Open Studios such a special and unique experience.
"One of the nice things about Open Studios is there's an ambience within a studio that reflects that artist and you can come and understand a bit about them from visiting that art space," Ross said.
You can see Ross and Gina's art and their studios at the Dandenong Ranges Open Studios event which takes place on 30 and 31 March.