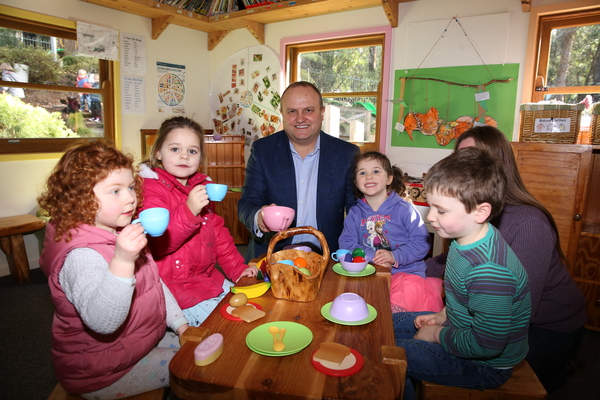 Yarra Ranges Council is supporting Wyndham Councils I Love Kinder Campaign which aims at lobbying the federal government to commit to recurrent kindergarten funding.
Families in the Yarra Ranges could be up to $2000 worse off if the federal government does not commit to its share of recurrent funding for four-year-old kindergarten.
That's the word from Yarra Ranges council, which is promoting the I Love Kinder campaign in a bid to pile on the pressure on the federal government to secure ongoing funding in the lead-up to the budget, which will be handed down on April 2.
Currently, the federal government has committed to funding five hours of kindergarten a week for every four-year-old until the end of 2019, with the state government funding the remaining 10 hours.
In recent years, the federal government has extended the funding on a year-by-year basis, leaving families and kindergarten providers in limbo.
James Collins, Director of Social and Economic Development said the government needed to commit to recurrent kindergarten funding to provide certainty for Yarra Ranges families.
"Council is supporting the I Love Kinder campaign to ensure Yarra Ranges children learn valuable social and academic skills to prepare them for an enjoyable transition to primary school," Mr Collins said.
"Council believes early childhood education should be affordable for young families and a commitment to funding from the Federal Government will provide financial certainty for them."
According to Yarra ranges Council statistics in the Yarra Rages alone, there is more than 1900 kids enrolled in 4-year-old kinder.
Yarra Ranges Mayor Tony Stevenson said the upcoming Federal Budget and 2019 election provided Councils and the community with the opportunity to advocate to the Federal Government to provide families with certainty.
"We know our communities love their kindergartens, which is why a heart is being used as the campaign symbol – as well as asking the Prime Minister to "have a heart," Cr Stevenson said.
"The election will be held before 18 May and this creates an immediate opportunity to build political pressure through a public campaign.
"Please sign the petition, which will be passed onto the Federal Government."
Member for Casey, Tony Smith told the Mail that he fully expected funding would be forthcoming.
"In 2019, $440 million of funding is being used to help fund kinders around Australia. Our local kinders receive their share of this money via the State Government and Yarra Ranges Council," Mr Smith said.
"Knowing how important kinders are to young children, their families and the wider community, I fully expect that a national agreement will be finalised later this year,
just like the last five annual agreements."