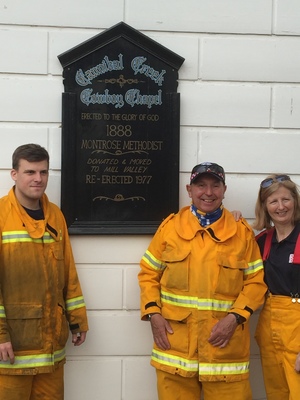 When Montrose CFA volunteers drove into Mill Valley Ranch to protect it from the Bunyip State Park bushfires, none of them expected to see the old Montrose Methodist Church.
In a post on Montrose CFA Facebook, crews from Montrose arrived in Tynong North on March 3 to assist with the Bunyip fires.
Along with many other duties they performed, they were surprised to see the former Montrose Methodist Church standing high and proud and relatively safe at the Mill Valley Ranch.
The first Church building in Montrose was built in 1888 on James Walkers land, behind the school and partly on land in Trevallyn road.
In May 1919 the Church building was moved 300 yards to Leith Road, and pulled on log rollers by a steamroller to Mill Valley.
Through the courageous efforts of CFA volunteers, who fended off the Bunyip State Park bushfire that was licking at the doorstep, Mill Valley Ranch and the Montrose Methodist Church was saved.
Manager Sue Ellis said the Tynong North Road horse riding ranch narrowly escaped the flames, which came right to the edge of the property.
"It got pretty scary there, the fire came right to the edge of our property; we're feeling so grateful and blessed that the ranch survived," she said.
"We know there are a lot of people doing it really tough and that there's been a lot of damage, and we feel really sad for them."
Mill Valley Ranch is historic in its own right; first established in 1967, it is one of the area's oldest developments and still runs its western horse riding programs and Christian youth camps.
The Chapel, formerly the Montrose Methodist Church, was built in the 1880s, and the camp's centre, designed like a western village, comprises of various historic structures.
Montrose Lieutenant Craig Williamson said members on the Montrose Tanker were chuffed when they saw the towns former Methodist Church still standing after the fires passed through the area.