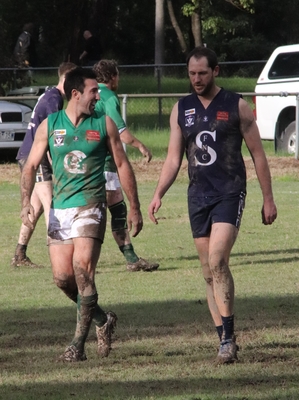 Often throughout the 2019 season the Gembrook Cockatoo senior side will boast more than 620 games of AFL experience.
But that's not even the most exciting part of the Brookers' AFL Outer East Division 2 campaign.
This season former North Melbourne and Geelong big man Hamish McIntosh will join Tarkyn Lockyer (former Collingwood) and Gembrook favourite son Michael 'Spud' Firrito at the Brookers under new coach Brad Coller.
But it's the youth emerging from the club's junior ranks that looms as the most exciting aspect of 2019.
It's understood that around a dozen young guns emerging out of a victorious under-18 campaign in 2019 could play regular senior football this year.
Of those, the group is stacked with best and fairest winners (both league and club), best on ground players in grand finals, captains, and vice captains.
It's a scene never before witnessed at the Brookers – such a large group of emerging talent all rising through together.
Guiding the under-18 crop as coach this year will be club favourite Darrell Maher, who's set to perfectly complement the work Coller and his staff are doing with the senior outfit.
The on-field leadership group at the Brookers this year will consist of two under-18s, two reserves players, and six senior players. Heading up that expanded group will be Firrito, who will this year step up as senior captain.
That, along with the re-commitment of Lockyer and the recruitment of McIntosh, shows the depth of the buy-in to the club across the senior group.
Two future stars, Harry Snoxell and Frankie Trott, are among the stellar under-18, premiership winning crop of last year who are still eligible to play at the level in 2019.
Coller has a long, storied history at both Thornton Eildon and Gembrook Cockatoo, and effectively considers them both home clubs.
In recent years he's also coached under Doug Koop at Cranbourne, and been the senior coach of Tyabb in the MPNFL.
In 2019 he'll be taking over the reins at Gembrook from an iconic Brookers figure, Matt O'Neil.
"I'm pretty close with Creep (O'Neil) still, and when he told me early last year it'd probably be his last as coach I started watching a few games because I'd had two years off and I thought that if I had more than two or three years off it was probably too long out of it," Coller said.
"I still had the passion to do it, particularly with an opportunity coming up somewhere I already had connections with."
Coller said his whole senior coaching application at the Brookers was based around its unprecedented crop of youngsters.
"It's sort of a once in a lifetime thing where the first ever under-18 premiership side at the club has 10 or so boys coming up into the seniors," he said with a grin from ear to ear.
In 2019, Coller's great mate, and another central figure at the Brookers, Neil Busacca will be his right-hand man, with former gun midfielder AJ Walker also returning to the fold as an assistant.
"Coming in this year, the aim wasn't to go and recruit 10 blokes," Coller said.
"We were already only two wins off a grand final appearance (losing the first semi-final to Yarra Glen after defeating Alexandra in the elimination final).
"My focus in my first year is getting the commitment from all the current players, and I've worked hard on that and have a good relationship with all of them already.
"If you look at the ones there every night, it's the under-18 kids leading the way with their commitment, fitness, and their passion.
"It's really a fantastic feeling around the place. We've only picked up a handful of players – Hamish being one of them. He's a massive recruit for us, but we've still recruited young. There are four or five others we've picked up who're in that 19 to 21 or 22 bracket."
McIntosh's great friendship with Firrito is the key reason for his arrival at Gembrook, and he's already highlighted his commitment to the group.
He has an ongoing role with Carlton in the AFL as a specialist ruck coach, while Lockyer will continue his work as coach of the Collingwood academy. It's expected that both could play around 10 home and away games this season, and would be available for any potential finals.
Coller isn't shying away from the fact that the Brookers' goal is to once again claim the Division 2 senior premiership and advance out of the tier.
This time, under the newly formed AFL Outer East umbrella – which also includes all but one of last year's South East Football Netball League (SEFNL) clubs – Division 1 is the second tier, below Premier.
But many of the clubs in Division 1 are nearby to Gembrook, geographically.
Coller has a lasting relationship with Firrito and his family, dating back to their junior days at the club. Firrito's brother, Carl, was a premiership team mate of Coller's at the Brookers in 2000.
"They're just a genuine family," he said.
"They've always got time for everyone. Spud has never changed. Even though he's had a decorated AFL career, he hasn't changed a bit – he'll always still stop in the street and have a chat to you.
"I've made him captain this year. He came back last year and wanted to just jump in and have a crack and help out, but this year he's ready to step up and take on a bit more of a leadership role.
"Most of the juniors were a bit in awe of him to start with, but then they realised how genuine he is. Now he's like just another mate. He's just got this incredible influence though. When he speaks, everyone listens."
As for McIntosh's role in 2019?
"He came to our race night at the Pakenham racecourse a few weeks ago," Coller said.
"He said: "I'll just play where the coach puts me… but I'll play full-forward!"
McIntosh is expected to spend plenty of time inside forward 50, while also alternating through the ruck with the likes of Col Bastow, who he'll now be mentoring.
Brooker fans will see an increased professionalism from the group this year – including everything from improved skills, to fitness and recovery.
Ultimately, they want to be playing Division 1 football when their new facility is up and firing in the coming seasons.