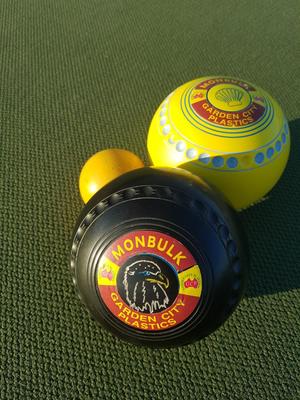 Tuesday pennant saw the holding of semi-finals with all Monbulk teams participating.
Monbulk 1, who finished in top place, played at home against Mooroolbark.
Eric Markham's rink began slowly and after the sixth end was down by 8 shots 2 to 10.
They then gradually pegged the margin back and when they obtained 5 shots on the seventeenth end had hit the lead. They finished all over their opposition to win by 9 shots, 26 to 17.
There was little between Andrew Bell's rink and his opponents for most of the game. However, they were able to win the last 4 ends to record a two shot win, 15 to 13.
This gave Monbulk a victory by 21 shots, 65 to 44 and a place in the section final.
Monbulk 2 played away at Glen Waverley on grass and struggled to keep up with their opponents.
Monbulk trailed by 12 shots after the eleventh end but ten bowled brilliantly to lose only one more end to take out the game by 4 shots, 24 to 20. This loss marked the end of the season for Monbulk 2.
Monbulk 3 played at home against Heatherdale.
Monbulk were able to get the upper hand on two of the three rinks which gave the team victory and a place in the section final.
Don Barnetson had a battle throughout the game winning only 7 ends and losing by 15 shots, 11 to 26. Overall, Monbulk 3 won 9 shots.
The section finals were held on Thursday 7 March with Monbulk 1 taking on Warburton at Boronia and Monbulk 3 playing Eastwood Golf at Mooroolbark.
Monbulk 1 started well and at the lunch break had established a lead of 21 shots. However, Warburton were not to be denied and made a stirring comeback to get within four shots with one end to play.
However, Monbulk was able to hang on in a nail biting finish to win by five shots, 55 to 52.
Andrew Bell's rink took control early in the match and came away with a convincing win by 15 shots, 24 to 9.
This meant that Monbulk were section champions for this season and will be promoted to Division 1 for the next bowls season.
Monbulk 3 played against Eastwood Golf at Mooroolbark.
Don Barnetson's team struggled to get on the board in the first half and at the halfway mark were eight shots down.
Then on the sixteenth end they picked up a massive five and then a three to get back in the game.
However, they couldn't bridge the gap and went on to lose 14 shots to 21.
Mike Harris' team led comfortably all day, picking up several good multiples and restricting Eastwood to low scores.
Then, on the last end, when the composite board was showing Monbulk ahead by two shots, they went and dropped a four. So, even though Monbulk won their rink 26 shots to 14, they lost overall 54 shots to 56.