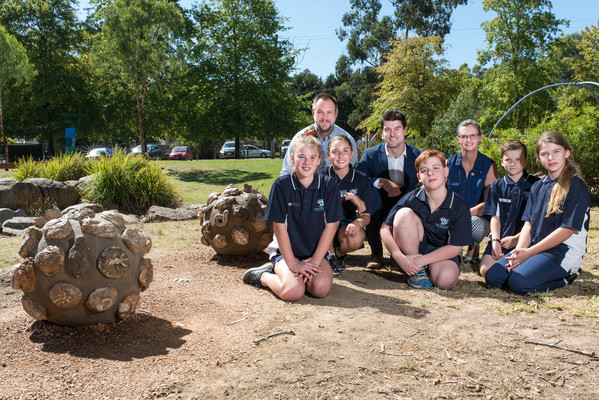 Clay critters made by Seville families, children and residents have found a permanent home in the Seville Recreation Reserve.
The Seville Critters project began with a community workshop in 2015 at the Seville Primary School, run by James Cattell and Dorelle Davidson, where students and residents could create native Australian animals from clay.
Yarra Ranges Mayor, Tony Stevenson, said the critters have found their permanent home, installed in concrete spheres at the Seville recreation reserve.
"After beginning this project, we had a whole lot of critters and not too many ways we could use to display all of them," Cr Stevenson said.
"The original plan was to put them in the dry river bed at the park, but we decided that could put our critters at risk of damage.
"After some hibernation and some thinking on our part, we've created some concrete spheres around the large oak tree overlooking the water play area, where the critters are now embedded.
"I'm happy to see this project come to fruition, and now the young people who made these clay sculptures can visit with their friends and family and look at all of the beautiful creations on display."
Landscape architect, Simon Ellis, created the concept for the concrete spheres and said he was mindful about the way the critters would be displayed.
"The spheres were the perfect, boundless sculptural form to express the playfulness, wildness and friendship that the critters already possessed," he said
Crafted Landscapes installed the artworks on behalf of Council.
Seville Primary School teacher, Marianne Craighead said the workshop events in 2015 had a big turnout and that she was excited that students who had made critters back in 2015 were able to find them on the spheres today.
"We held an open evening at our art room – and one was scheduled at the Seville Hall – for our school and wider community to come in and make a clay critter that they might find in our local environment," Ms Craighead said.
"We looked at pictures, considered what might live in the creek, the park, our school yard and our home yards – the bugs, the birds, the water creatures, the native species we reside alongside."
"Thank you to Yarra Ranges Council for making sure this came to fruition. This is a lovely connection to the school."