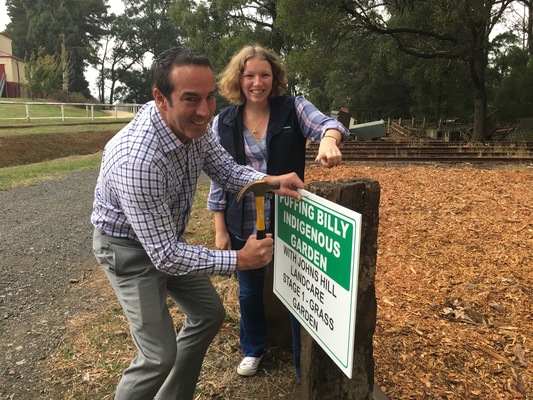 Puffing Billy has joined with Johns Hill Landcare Group in a new project to create a garden showcasing indigenous plants.
For a long period of time the Southeast corner of the Puffing Billy Railway line that intersects with Kilvington Drive has housed railway equipment and various Puffing Billy paraphernalia.
As part of a Cardinia Shire beautification grant, Johns Hill Landcare Group is working with Puffing Billy to beautify the area.
Secretary of Johns Hill Landcare Group, Jenny Lyndon said this corner of the intersection was in dire need of a facelift.
"This garden will ensure everyone can see what's good for habitat in Emerald," she said.
"This corner is Puffing Billy land and has been populated with these Puffing Billy items for years … old signalling boxes and a bit of concrete and rails."
"We're putting in indigenous plants of Emerald and then we're going to put placards and labels on them … the goal is for people to walk through and see what the local flora is, so hopefully they can plant some in their own backyard."
Some of the Puffing Billy paraphernalia will be included in the garden designs to commemorate the history of the railway and Emerald Men's Shed is constructing tables and seating made from railway sleepers.
Ms Lyndon said the garden will provide a pleasant walk for tourists alighting from Emerald Station.
"The first section of the garden will be grasses and low flowering plants. This section was designed to give the train drivers line of sight to the intersection as they come around the curve towards the station."
"As the remaining 'treasures' are moved to alternate locations over the next couple of years, mid-story plantings will be included and the existing larger trees will be labeled."
On Thursday 2 May, Manager of Way and Works for Puffing Billy, Jason Bell launched enthusiastically into the project, with volunteers from Nossal High School taking part in the construction of the paths .
Johns Hill Landcare Group, with the Emerald Scouts, is taking care of the design, planning, land preparation and planting.
Steve O'Brien, Interim CEO of the Emerald Tourist Railway Board inspected the site recently with Anna Van Der Peet, President of Johns Hill Landcare Group and welcomed the Landcare work.
An official planting will take place on 22 June, from 11 am – 1 pm and Ms Lyndon invited residents to come along.