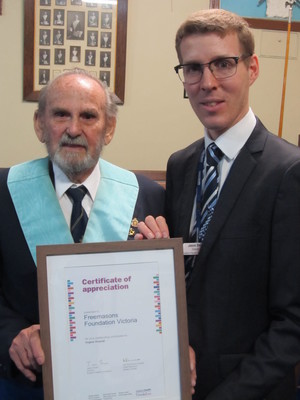 The Freemasons Foundation Victoria has donated $5000 to the Eastern Health Foundation to purchase a vital signs monitor for the Angliss Hospital.
At the monthly in February, the Blue Dandenongs Freemason Lodge made the decision to donate the money to a worthy cause in the community.
John Di Donna told the mail that "Lodges throughout Victoria had been asked to nominate worthy causes and members had voted to award the money to their local hospital as almost every member has attended the Angliss over the years."
"I'm 83-years-old and the average age in the lodge is 84, so there's not one of us who hasn't been to the Angliss," he joked.
The $5000 donated to the Angliss allowed the hospital to purchase a purchase a vital signs monitor, which can measure pulse oximetry, blood pressure, temperature, respiration and much more.
Mr. Jason Smith, a Director of Eastern Health Foundation, attended the May meeting of the Blue Dandenongs Lodge at Belgrave to thank them for recommending this grant to the hospital.
He also presented a Certificate to the Master, Ken Damm, in appreciation of the generosity.of Freemasons Foundation Victoria.
"We are incredibly grateful for this generous donation from Freemasons Foundation Victoria," Mr Smith said.
"This will go towards a vital signs monitor at Angliss Hospital, a vital piece of equipment that supports our staff to provide great care to our patients."
Freemasons Foundation Victoria, through their Benevolent Fund, donates over a million dollars a year to community causes including hospitals, community grants, medical research and scholarships.