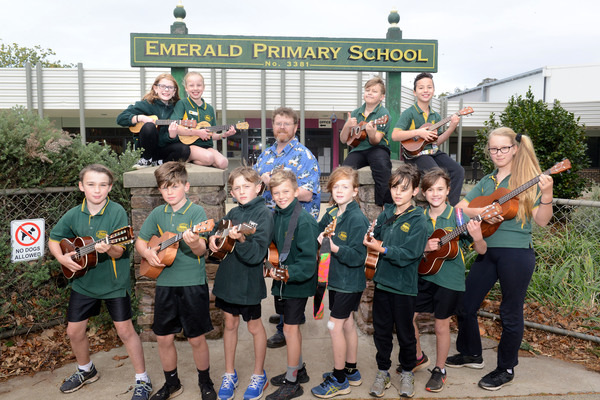 Websters dictionary defines a ukulele as a small guitar of Portuguese origin popularised in Hawaii in the 1880s and strung typically with four strings
Now that you have a bit of background knowledge on it, we think it's the ideal time to familiarise your ears with the magical sounds these devices can produce.
What better way to do that than by attending this year's Hills Ukulele festival which run from 18-19 May.
The Hills Ukulele Festival is back on at Emerald Primary School promoting all things ukulele.
Festival Director, Dan MacEoin said the festival line-up features a diverse range of world-class ukulele performers, ukulele groups and workshops.
"This year, the Hills Ukulele Festival has 10 workshops, 8 Featured Artists, 18 community groups, 3 stages, 6 primary schools, 2 secondary schools, group strum-alongs, open mics and a raffle," Mr MacEoin said.
"We have more and more bands and three stages running this year on the Sunday, but also free workshops for school teachers and students.
"One aspect of the festival that sets it apart from other music events is that all Saturday workshop participants are welcomed to the main stage during the Gala Concert to play their workshop song with the featured artists … how many music festivals have that level of inclusivity?"
Mr MacEoin, who is also the music teacher at Emerald Primary School, is a strong advocate for the ukulele as a tool for teaching music theory.
He said the ukulele was a great instrument for people to play and was becoming increasingly popular among people of all ages.
"The ukulele has a lot of instant success moments and as a school teacher you can use it to teach theory and have fun with it … that's appealing on a lot of levels."
"It's accessible, cheap and you can build skills very quickly."
For the price of a Saturday ticket, participants get the opportunity to take part in nine different workshops with a range of experience levels, and then perform on stage.
Then on Sunday 19 May there will be a variety of community group performances, open mic opportunities and group strummalongs, across 3 different stages.
Additional information (ticketing, workshops and performers) can be found on their website www.ukulelefestival.com.au as well as their Facebook page Hills Ukulele Festival (HUF).
"If you ever want to feel welcomed, show up to a ukulele event, you won't find a nicer bunch of people," Mr McEoin said.