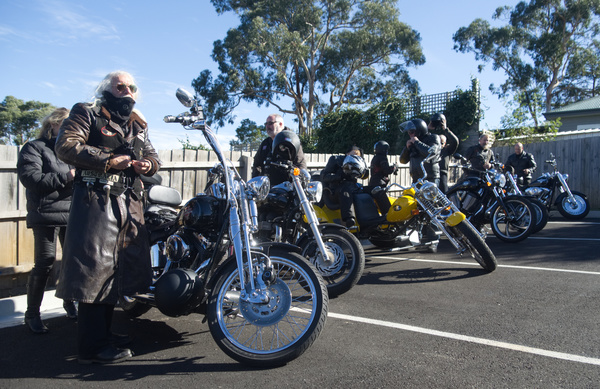 "Most people want to help other people but don't know where to start."
So Upwey and Ferntree Gully-based Foothills Community Care is making it easy, CEO Stephen Barrington told the Mail.
It's all about the basics.
"Each winter we have a special winter appeal going on when we generally collect socks and underwear, particularly for people who are dong life a bit tough – for homeless people, for single parents, for people in our domestic violence program," he said.
"When people are financially not going so well, when they're spending most of their money on rent and food and bills, they have very little money to spend on the basics.
"It really came to a head a couple of years ago."
The charity received a donation of socks and distributed them to people in need.
Mr Barrington remembers feeling shocked as some removed boots riddled with holes to reveal no socks beneath.
"The absolute delight on their faces when we gave them the socks…" he said.
"It makes such a difference."
The Upwey-Belgrave RSL did its bit to help Foothills on Sunday 19 May.
Motorcycle riders met at the sub-branch and set off on a scenic ride around the Dandenongs for a $10 donation.
"It's the first time we've done it with the RSL. They've been a great partner with us," Mr Barrington said.
"They've helped us out for two years now with our winter appeals.
"Last year they came and they collected beanies and blankets and goodies for us and brought it down when we had our big winter celebration night.
"This was a bit of an extension on that.
"Myself and the other organiser, Roger, we're both involved in motorbike riding and have both been involved with charity rides quite a bit in the past.
"We thought it was a natural fit to involve the local motorbike community."
Riders returned to the RSL after the ride.
"We had some bands playing, we had a bit of a chat about what we do and particularly our winter appeals, we had a raffle going on," Mr Barrington said.
"We had some people who brought down some great donations on the day.
"We're really grateful for the support of the wider community and we find that when people have a way of helping others, they want to help."
Foothills Community Care offers more than 9000 free meals a year to those in need, and other tangible support.
It will host a fund-raising dinner at its Upwey base on Thursday 6 June for $30 a head.
The Ferntree Gully Community Bank is accepting donations of socks and underwear.
Donate at www.foothillscare.org.au.