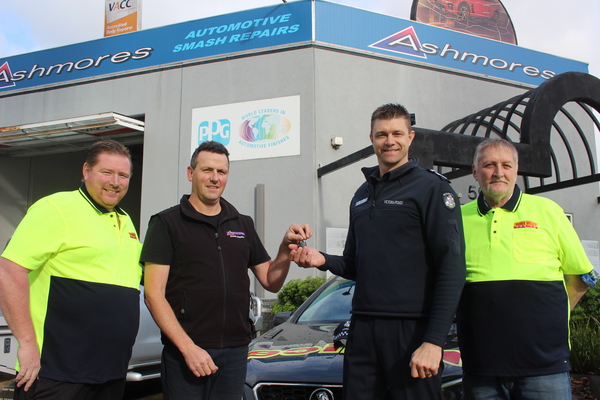 The kindness of strangers is making life a little easier for a Yarra Ranges mum involved in a tragic accident.
The woman, who did not want to be named, struck and killed a 41-year-old Wandin North man with her car on Lilydale-Monbulk Road, Mount Evelyn, just after 6.30pm on Friday 10 May.
Yarra Ranges Highway Patrol Leading Senior Constable Scott Lardner said the young woman's two children were in the car with her.
He said a crash scene reconstruction showed she was travelling under the speed limit.
The man was wearing dark clothing and headphones, it was dark, it had been raining and there were no street lights.
"She's devastated," Lead Sen Const Lardner said.
But to make matters worse, she'd planned to change car insurance companies and let her cover lapse.
So Lead Sen Const Lardner stepped in.
He connected the driver with the deceased man's parents, who placed no blame on her shoulders for the tragic accident.
He also decided the bill to get her car fixed, estimated at $5500, should be the least of her worries.
"She has not asked for a thing," he said.
"I've pushed the barrow to the front door of Yarra Valley Towing and Ashmores and they've picked up the handles."
The police had the car towed to Yarra Valley Towing in Lilydale after the crash.
Once they'd finished their examinations, Lead Sen Const Lardner explained the situation to the business.
Father and son team Garry and Michael Kirkup immediately offered to wave storage fees and replaced the car's windscreen free of charge.
Michael said community service was in their background.
"It reinvigorates your community spirit," he said.
"It's nice when you have a feel-good story."
Lead Sen Const Lardner knew the team at Ashmores Automotive Smash Repairs, located a few doors down, so again explained the story and asked for any help they could provide.
"They said they'd do it as cheap as possible," he said.
Greg Ashmore said it was such a sad situation.
"I was happy to help a local person," he said.
"I've got kids as well, so I felt for her kids."
He also reached out to Sunshine-based family business Just Jeeps Auto Wreckers for parts.
The supplier slashed its bill by half, bringing the total for the driver down to about $2500.
"They went above and beyond," Mr Ashmore said.
The driver is still recovering from the traumatic event, but wanted to thank Lead Sen Const Lardner and the businesses for their generosity.
"I have always loved this community, but after all of this I feel even luckier to be a part of it," she told the Mail.
She was "completely overwhelmed" with the unexpected generosity and kindness from the businesses.
"It means more than they will probably ever know," she said.
"To have people be so helpful, understanding and supportive in such an incredibly difficult time, I feel very lucky.
"I can't thank everyone enough for all of their support and generosity with everything!
"Just being kind to one another really does change lives."
Lead Sen Const Lardner said this wasn't something he'd made a habit of in his 26 years as a police officer.
"I've never done anything like this," he said.
"This is just one out of the box."
He urged people walking at night to wear fluorescent or reflective on their shoes, backpack or clothing and to avoid wearing headphones.