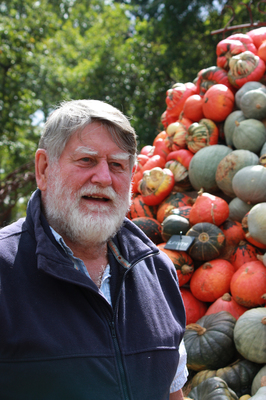 Long before sustainable gardening was the hobby of Brunswick hipsters, Clive Blazey and his wife Penny were making a name for themselves as subversive gardeners.
In an old tin shed in 1978 the couple founded The Diggers Club – a mail order seed and plant company.
Since then Clive has authored eight books and countless articles for the Diggers Garden magazines with the Diggers Club now Australia's largest gardening club.
On 10 June Mr Blazey was made a Member of the Order of Australia (AM) in recognition of his 40 years in organic gardening, seed saving, introducing heirloom seeds to Australian gardeners and being a tireless advocate for conservation and the environment.
Since its inception, the Diggers Garden Club has grown to over 75,000 members nationally and includes a club at the Cloudehill Nursery.
The long-time Olinda institution, joined forces with the Diggers Club in 2014 with the club taking over the nursery.
Mr Blazey said he was chuffed to receive the AM and said Cloudehill gardens was one of the best in the country.
"I was pretty chuffed about it," he said.
"My skills are do-it-yourself backyard gardening and to me gardening is horticulture plus art, and that's what I get pleasure from."
"Jeremy Francis at Cloudehill is an elite gardener and good friend of mine. He's pretty much he's own man and a fantastic gardener.
"I wander around and admire his garden at Cloudehill and the Diggers have a nursery there.
"We Supply the seeds and plants…it's one of the finest gardens in the country outside of the botanic gardens."
Mr Blazey said his mission has been to preserve the natural beauty of gardens, which he said is suffering from mass-produced plants intended for pots.
He said that at the time the Diggers Club was created there were thousands of fruits and vegetables not sold in supermarkets, including different types of tomatoes, which were at risk of disappearing from gardens and plates forever.
"We were pretty scientific," he said.
"We were always trying to offer different plants to what was common and mainstream, and when we went overseas we realised there were different species of tomatoes, so we collected those seeds and trialled them back here."
"We actually got a whole lot of renowned chefs to taste test them and they were blown away by how superior these older varieties were, compared to the modern ones that everyone was eating.
"We've always been passionate about preserving the best of the past and most people don't realise that in a lot of cases the new varieties are actually not as good as the old."
Mr Blazey said he was gratified by his award, but said he remains a gardener first and foremost.
"The citation says I'm a horticulturalist but I'm a gardener."