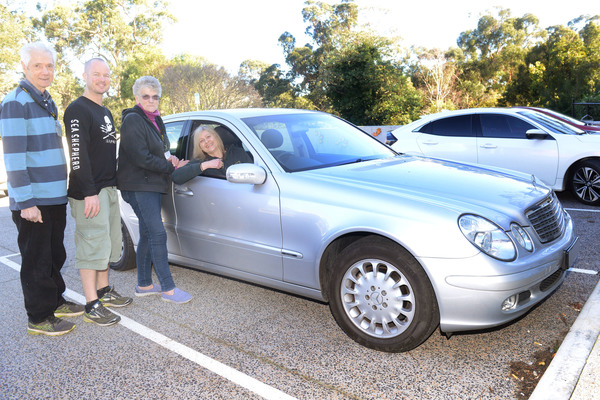 The Dandenong Ranges Emergency Relief Service are the proud owners of a 2004 Mercedes Benz, that was donated to the charity from their Patron, Philip Wollen OAM.
Located in Belgrave, the car will assist DRERS in their service that entails supporting people who are homeless and disadvantaged.
That support comes in the form of delivering food, food vouchers, payment of prescriptions, clothing vouchers, assistance with paying bills, advocacy, referrals and even crisis counselling.
Philip Wollen OAM and his wife Trix have decided to donate one of their Mercedes Benz cars to a suitable charity by advertising it on Facebook.
Charities were encouraged to apply.
DRERS CEO, Tania Bevan said the car, which aptly has the number plates 'Humane,' is a great boon for the charity and enables them to make discreet deliveries.
"It's unmarked so we don't have our name on it, which is quite important for families who don't want their children or neighbours to see."
"People can get embarrassed and we're here to help people so we don't want them to feel like they can't reach out for that help."
The car will also be used to drive clients to appointments, which the charity was unable to do beforehand as their other vehicle is used to pick up food donations 4-5 days per week.
"By having that vehicle if we need to drive a client to an appointment it's not taking away our ability to use our other vehicle to pick up the food, because we do that 4-5 days a week," Ms Bevan said.
"It's not going to hinder any part of our service.
"We would never have gone out and got a second vehicle, but the fact it was given to us means can deliver our service even better."
Currently the charity is asking for donations of warm blankets, pet food and warm sleeping bags rated to colder climates.
DRERS is at 1616/1624 Burwood Highway, Belgrave, and can be contacted on 9754 7777.