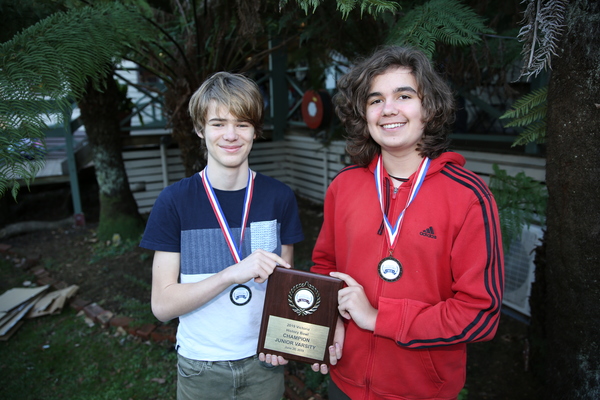 On 20 June, year nine Sherbrooke Community School students Jem Toland and Barnaby Smith Major made history.
The duo took out the gold medal at the International History Bowl state titles, despite being out numbered, by larger teams.
The competition is open to all secondary students throughout the state of Victoria and the this year's tournament at Kingswood college, saw 13 school teams battle for a full day on Thursday 20 june.
The small community school of 160 students battled against much larger school the likes of Scotch College, John Monash Science School, Fintona Girls and Malvern Central school.
It is the second year that Jem and Barnaby took out the award and both said they were chuffed with the win.
The two students complement one another as each have their own speciality – Jem is the military and European history expert and Barnaby's specialty is ancient history.
"It's a very broad competition as it covers all history," said Jem
"In the first round we beat everyone apart from one team, who we faced in the finals and won against."
"Most of the other teams had 6 people – four on a team but could swap two people in and out – so we were outnumbered in every game," said Barnaby.
Students answered questions from political, diplomatic, social and military history and the boys won the team event in the junior varsity (years 9 and 10) section.
They also competed individually against all secondary students including year 11 and 12 student with Barnaby placing second and and Jem third, despite only being in year 9.
Both boys said they'd be back again next year for the hat-trick win.
"We will definitely be there and going for the hat-trick," said Barnaby.