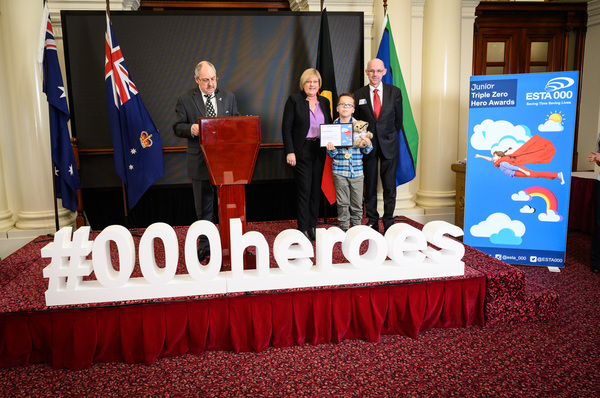 A Montrose boy was lauded a little hero for keeping calm when his mum needed emergency medical help.
Eight-year-old Rylee Thomson was among 27 young Victorian to receive a Junior Triple Zero Hero Award at Parliament House on Thursday 27 June.
He called triple-zero when his mum, Tanya Russell, suddenly had difficulty breathing.
"Rylee showed maturity beyond his years and answered the call-taker's questions to get his mum the right help," his award citation said.
Ms Russell said she was very proud of her son, who's on the autism spectrum.
"Educate them from a young age is really the key," she said.
"You don't think you're ever going to use it on yourself, but from a young age I taught him and his sister our address and what to do in emergencies.
"Being a nurse as well, you never know if they're going to need it.
"He got lost when he was four and he went and told security my phone number."
Ms Russell said Rylee was playing outside his home with his sister on the day of the triple-zero call.
"I had just hopped out of the shower and was getting ready for work," she said.
"I have asthma and had a cold.
"I just started really struggling.
"I sat down for a bit and took my Ventolin and it wasn't doing anything.
"I probably started to stress myself out as well."
She was later diagnosed with pneumonia.
"One of my lungs was not working properly," she said.
"Rylee came running inside and saw me sitting on the couch and called triple-zero.
"I tried to help him with what to say on the phone, but I couldn't get anything out."
Rylee provided the call taker with the address.
"The triple-zero call-taker told me that was the most important part, just getting the help there," Ms Russell said.
She said Rylee's principal and teacher were very proud of his efforts and he spoke to his classmates about the honour.
"It's a good thing for educating others," she said.
She works with doctors and several told her Rylee's story had inspired them to teach their own kids what to do in an emergency.
Call takers at the Emergency Services Telecommunications Authority (ESTA) nominated the little heroes.
Police and Emergency Services Minister Lisa Neville attended the 15th annual Junior Triple Zero Hero Awards and congratulated the youngsters.
"The bravery and courage these young Victorians show during emergencies, often involving their loved ones, is truly inspirational and I congratulate them on their outstanding efforts," she said.