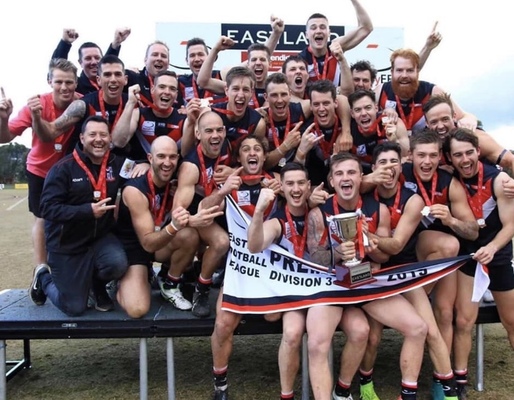 The South Belgrave Football and Netball Club made history this year winning four premiership flags and competing in five Grand Finals.
The Belgrave Saints swept to the Division 3 premiership at the September 7 grand final against Waverley Blues at Ringwood's Jubilee Park.
But, it was to be a red-letter day for the red, white and black army, who also won the reserves and under-19s premierships in a clean sweep, as well as a netball grand final.
The senior men's team went through the season undefeated and the reserves team only lost one game for the season (round 1).
The under 19's team sat at second for most of the year and after a few rocky rounds, pulled off a massive win against a confident Warrandyte.
On top of this, in only their third season of competition the Belgrave South Netball team won their first ever premiership.
South Belgrave Football and Netball Club president Danny Blomeley said it was unbelievable what the club had achieved in the last three years.
"It's been three years in the making," he said.
"We had a tough 2017 where we staved off relegation, and then in 2018 we consolidated and then this year was our year to have a crack at it."
"We had the perfect season where we didn't get a lot of injuries, but also had good progress in our reserves and under 19's, which you can see with the premiership flag."
"We only introduced netball three seasons ago and fielded two teams and one of them was able to win the grand final – we went through only losing one game for the year."
"It's been a concerted effort by the club."
There was a possibility the club would add a fifth grand final to their achievements, though the women's football team narrowly missed out on a grand final win losing by only seven points.
"In their inaugural year – our womens team 'the wolf pack' exceeded all expectations by making the grand final," Mr Blomeley said.
"What an absolute highlight for not only their on-field success in their first season, but the positive integration into our club."
"This years success has been a culmination of many years hard work and the efforts by all in particular throughout seasons 2017 and 2018"
The club will now head into Division 2 for 2020.