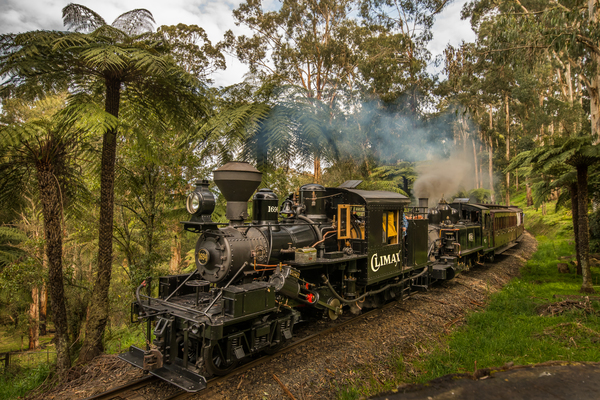 After a year in the Museum, the unique Climax Locomotive is again travelling on the Puffing Billy line from Menzies Creek to Lakeside.
This once-in-a-year event is a great opportunity to enjoy a lovely evening travelling in the twilight through the Dandenong Ranges, but also a chance to travel on what is considered a 'unique and special' train.
Following 10 years under restoration at Belgrave, Climax was officially launched into service on Sunday 8 September with a special return trip from Belgrave to Emerald.
One of the last built by the Climax Manufacturing Company of Corry, Pennsylvania, Climax No.1694 is one of two trains exported to Australia, and is the only one built to Puffing Billy's two-foot, six inch gauge.
It is the only wood-burning locomotive at Puffing Billy and is only one of four remaining operational Climax locomotives in the world – outside of the USA.
The distinctive feature of the Climax locomotive is that the cylinders do not directly connect to the driving wheels. Instead, they drive a cross shaft near the centre of the locomotive.
From there the drive is transmitted to the small driving wheels through rotating shafts, universal joints, and bevel gears. The driving wheels are mounted in two four-wheel bogies so that they can easily follow sharp curves in the track – none of these features being found in normal steam locomotives.
The result is a unique locomotive that is extremely powerful for its size, and can cope with sharp curves and steep grades with ease.
The Climax Twilight Outing occurs every year and is a rare opportunity to travel on the otherwise museum-bound train.
All proceeds from this event go towards ensuring that the Climax Locomotive can continue to operate on narrow gauge lines into the future.
To book go to: https://bit.ly/2m1I90a