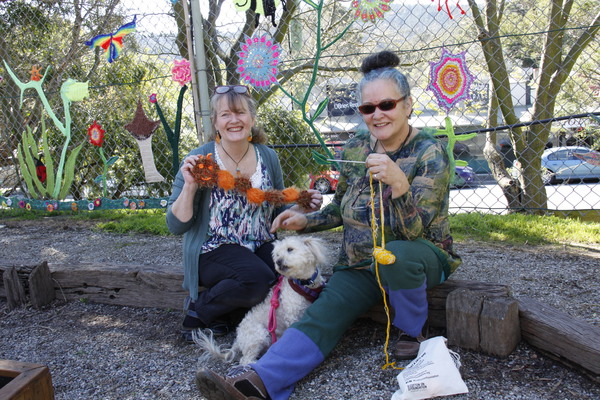 While the arrival of wattles, daffodils and magnolias herald the coming of spring, one place in Tecoma has been blooming all winter.
From idea to fruition, the FLAME Garden Flower Fence has grown and  continued to blossom into a permanent and growing garden feature at the Hills Food Frontier edible garden.
Adorning the fence are all sorts of knitted garden related paraphernalia.
Secretary for the Hills Food Frontier Merryn Griffiths said contributions to the FLAME Garden Flower Fence were always welcome and the group gather every third Saturday of the month.
"If you can crochet, knit, weave or have talents in macramé please come along to one of our Saturday morning installations and garden fun times," she said.
"Whether you can create something for the fence or you would just like to come and help with the installation or play in the garden, we welcome you to join us to be a part of this ever-growing and flourishing community garden."
Since autumn, Ms Griffiths, along with Christina Caleo and Jan Moon have been contributing to the fence.
"Over the past year I had been putting up little crochet pieces all made of cotton yarn which don't hold up under weather, but they're still there," Ms Griffiths joked.
"There's at least 15-20 pieces. Not all are mine and I have to acknowledge our talented community artists Christina Caleo, and Jan Moon."
The next Saturday Garden Time will be held on 21 September from 10am-12pm, and gardeners, and crocheters of all abilities are welcome.