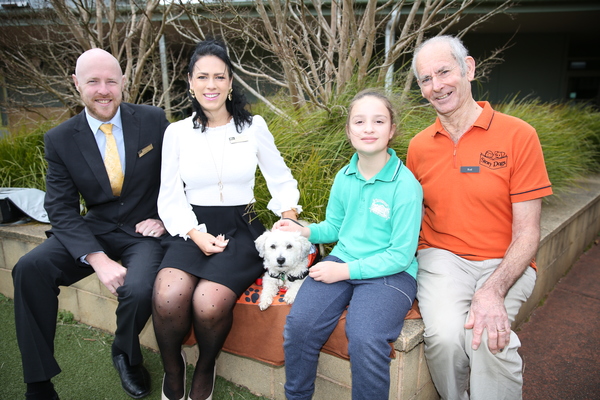 At 10 years of age, Bucky is the youngest staff member at Gembrook Primary School.
But, there are a couple of differences between Bucky and others who attend the school. Bucky has four legs, a wagging tail and is the school's reading recovery dog.
The little pooch belongs to Rod and Suzanne Johnston and joined the school as part of the Story Dogs program.
The Maltese Shitzu is always welcome in the classroom at Gembrook Primary School, where children with behavioural or learning difficulties can practise reading aloud to him.
At the last assembly on 20 September, Gembrook Primary School paid special attention to the four-legged staff member who was presented with an official 'story dogs' coat.
"In our office foyer you would've seen, along with every other teacher a special staff member – can anyone guess who that is?" asked Principal Brendan Fitzpatrick.
"It's Bucky, our much loved story dog."
"Suzanne, Rod and Bucky help us with our reading and they help us to increase our love for reading so we're very lucky to have Rod along with Bucky here today, but were also lucky to have Bethany and Aaron from Emerald Bell Real Estate. They're here to present Bucky with his beautiful new story dogs coat."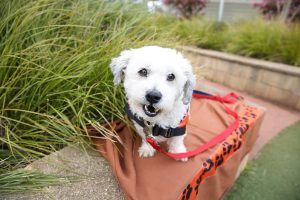 For over three years, Bucky and owners Suzanne and Rod have helped students at Gembrook Primary learn to read.
The organisation –Story Dogs – is based around the idea that when children read to a dog it provides a non-judgmental setting where the children's focus improves, their literacy skills increase and their confidence soars.
Rod said the program was a great way to make reading fun, especially for children who might be daunted by having to read in front of others.
"He's such a relaxed dog, and very often he will rest his little head on their lap and the kids love the calmness of it," Rod said.
"Watching them read to him is a constant delight and a privilege. The non-judgemental, loving nature of dogs gives this program its magic … children relax, open up, try harder and have fun with a dog.
"When the children see Bucky their little faces light up."