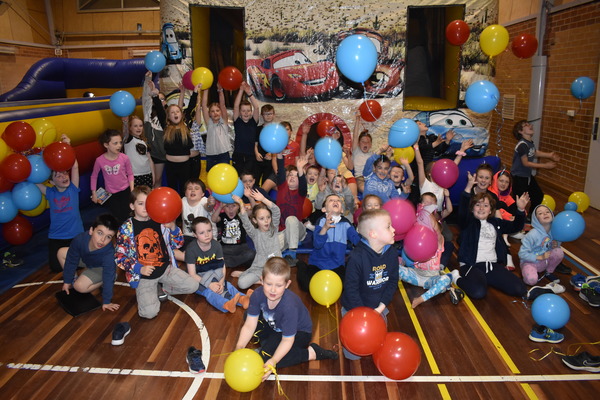 The Mt Evelyn Primary School gym was full of life on 4 October as the school celebrated five years since the opening of its Vacation Care program.
Participating kids gathered in the gym with two jumping castles, a movie room, balloons, books and toys to not only celebrate the milestone but also send the holidays out with a bang.
The school's Vacation Care program has grown extensively since first opening, growing from 45 spaces to the 120 placement service it is today.
It welcomes kids throughout the Dandenong Ranges and beyond, extending from Ringwood all the way out to Warburton.
In July this year, the program's services received a rating of 'exceeding' by the Department of Education.
Melissa McDonald is the Mount Evelyn Primary School's OSHC Coordinator. She said vacation care programs are vital for the modern-day needs of parents.
"Families requirements have changed since l started in this position a very long time ago," she said.
"A large percentage of families require two incomes which can be very tricky if you do not have a family support network.
"Parents simply do not get vacation care periods off from work commitments to care for their children.
"Vacation care is very affordable with the introduction of CCS subsidy and families know their children are having a fun and educational day."
The program at Mount Evelyn is run by a team with members who have a diploma in childhood education and care or are qualified teachers.
They help put on a range of different activities for children outside of school hours including excursions, sports days and much more.
The Department of Education and Training and Community Childcare Australia has filmed a commercial of the program's services which is set to be released later this month.
Ms McDonald said the support from the school network and feedback from parents and children has been very positive over the years.
"Children come to our three programs because they want to not because they have to," she said.
"The parents often say l can never get them to leave."
With the school holidays now over, the school is preparing for its summer holiday program, which is already receiving enrollments from parents.
The summer program is open to the community and will run during its usual hours, from 6.30am to 6.30pm.
For more information, contact 9736 2233 or email osh@mtevelynps.vic.edu.au.